Winter Wonderland to Offer Christmas Cheer to Area Children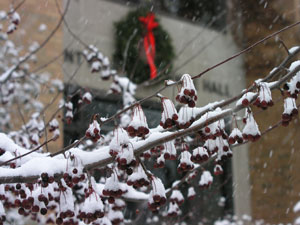 Contact:
Gwen O'Brien 
Director of Media Relations
Saint Mary's College
(574) 284-4579
November 19, 2012 (Notre Dame, Ind.)—Saint Mary's College students will host Winter Wonderland for children affiliated with South Bend public schools, the Center for the Homeless, and Robinson Community Center on Saturday, December 1 from 1-4 p.m. in the Student Center. Children of Saint Mary's College faculty and staff are also invited to the Christmas party. Click for a college map.
The event is organized by the Traditional Board, a part of the Student Activities Board, and Co-Campus, a group with representatives from other area universities. It is the third year for the event. Children will get to frost their own Christmas cookies, create winter crafts, and play games. Special guests are expected to include Santa Claus and some Notre Dame athletes.
"Winter Wonderland is a really good reminder of what the holiday season is about, which is giving back and giving to others," Megan Woodring, co-chair of the Traditional Board, told the student newspaper The Observer.
"Talking with Santa will probably be the most popular activity," Woodring continued. "We have our event really early in December and for most of them, it's the first time they get to see Santa during the holiday season, so it gets them excited for the rest of the holiday season."
The media is invited to cover the event. About 150 families are expected to attend.
About Saint Mary's College: Saint Mary's College, Notre Dame, Ind., is a four-year, Catholic, women's institution offering five bachelor's degrees and more than 30 major areas of study. Saint Mary's College has six nationally accredited academic programs: social work, art, music, teacher education, chemistry and nursing. Saint Mary's College ranks among the top 100 "Best National Liberal Arts Colleges" for 2013 published by U.S. News. Founded in 1844, Saint Mary's is a pioneer in the education of women, and is sponsored by the Sisters of the Holy Cross.