College Announces New VP for Finance and Administration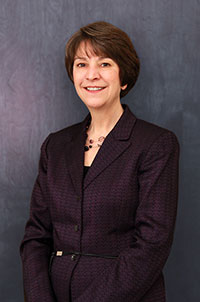 Vice President of Finance and
Administration Susan K. BoltContact:
Gwen O'Brien
Director of Media Relations
Saint Mary's College
(574) 284-4579 (desk)

March 1, 2013 (Notre Dame, Ind.)—Saint Mary's College is pleased to announce that Susan K. Bolt has joined the College as the Vice President for Finance and Administration. Bolt has 26 years of experience working in finance in higher education settings, including at Kettering University in Flint, Michigan and the University of Hartford in West Hartford, Connecticut.
Saint Mary's College President Carol Ann Mooney welcomed Bolt to the College, "I am delighted to welcome Susan to Saint Mary's College. She brings great experience and enthusiasm to the position and I look forward to having her as a member of my cabinet."
Bolt served as Vice President for Administration & Finance and Treasurer of Kettering University in Flint Michigan for 18 years. While at Kettering she was responsible for leadership of their administration and finance organization. She led two Campus Facilities Master Planning projects, participated in the self-study for their Higher Learning Commission report, and oversaw six major building projects. She arrives at Saint Mary's College at an exciting time when capital improvement projects for Science Hall, the Cushwa-Leighton Library, and the Angela Athletic & Wellness Complex are planned as part of the Faith Always, Action Now campaign.
Bolt expressed her pleasure at joining the leadership at Saint Mary's College. "I am thrilled to have the opportunity to work with the Saint Mary's community and contribute to the success of the College."
Bolt fills the position vacated by Richard Speller who retired from the College earlier this year.
About Saint Mary's College: Saint Mary's College, Notre Dame, Ind., is a four-year, Catholic, women's institution offering five bachelor's degrees and more than 30 major areas of study. Saint Mary's College has six nationally accredited academic programs: social work, art, music, teacher education, chemistry and nursing. Saint Mary's College ranks among the top 100 "Best National Liberal Arts Colleges" for 2013 published by U.S. News. Founded in 1844, Saint Mary's is a pioneer in the education of women, and is sponsored by the Sisters of the Holy Cross.