Professor Emerita of Business Named Fulbright Scholar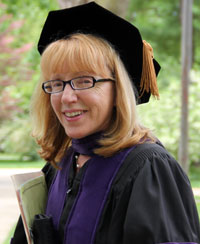 Susan Vance, professor emerita of business
law and accounting, was recently selected
as a Fulbright Scholar. She will travel to
Thailand in the fall for her assignment.Contact:
Gwen O'Brien
Director of Media Relations
Saint Mary's College
Notre Dame, Ind.
(574) 284-4579
April 30, 2013 (Notre Dame, Ind.)—Saint Mary's College is proud to announce that the J. William Fulbright Foreign Scholarship Board has selected Susan Vance, professor emerita of business law and accounting, as a Fulbright Scholar Grantee to Thailand. Beginning in November, Vance will spend four months as a Fulbright Scholar in Residence at the College of Management at Mahidol University (CMMU) in Bangkok.
Vance's Fulbright appointment will include giving tutorials to masters and PhD students conducting research into entrepreneurship, holding periodic seminars with CMMU faculty, and engaging in outreach activities (e.g., seminars with local organizations).
"I believe that my background as the senior project director of the Women's Entrepreneurship Initiative at Saint Mary's College, as well as my background as a business professor, certified public accountant, and lawyer make me uniquely qualified to collaborate with my Thai counterparts to our mutual benefit," Vance explained.
While Vance retired from the College after the spring semester of 2012, she is still very engaged on campus. She directs the Department of Business Administration and Economics' internship program and taught full time in the fall. Over the past 30 years, Vance has taught courses like Business Law, International Business Law, International Business, Managerial Accounting, Taxation, and Financial Success Strategies for Women. She also created the Women Entrepreneurship Initiative (WEI) in 2009 and served as its senior project director. In the spring of 2012, she received the College's Spes Unica Award, which recognizes a faculty member's eminent service to Saint Mary's in the areas of teaching, scholarship/ creative activity and/or service.
When applying to be a Fulbright Scholar, Vance requested Thailand as her country placement preference. Vance said she had a reasonable understanding of the European Union, but sought to become familiar with doing business in Asia, a critical part of the global economy.
"I chose to focus on Thailand because it is a country that I have long wanted to explore and learn more about, and the experience would represent a personal challenge to me because the culture is different from what I am used to," Vance explained.
Upon completing the Fulbright assignment in Thailand, Vance hopes to establish technology-based connections between students at Saint Mary's College and students in Thailand.
Fulbright is the most widely recognized and prestigious international exchange program in the world, supported for more than half a century by the American people through an annual appropriation form the U.S. Congress and by the people of partner nations. The program—working with universities, schools, bi-national Fulbright commissions, government agencies, nongovernmental organizations and the private sector—actively seeks out individuals of achievement and potential who represent the full diversity of their respective societies and selects nominees through open, merit-based competitions.
Fulbright's history dates back to September 1945 when the freshman senator from Arkansas, J. William Fulbright, introduced a bill in the U.S. Congress that called for the proceeds from the sales of surplus war property to fund the "promotion of international good will through the exchange students in the fields of education, culture and science. One year later, President Harry S. Truman signed the bill into a law, and the young senator's vision of replacing swords with plowshares found its expression. For more information on Fulbright, click here.
About Saint Mary's College: Saint Mary's College, Notre Dame, Ind., is a four-year, Catholic, residential, women's liberal arts college offering five bachelor's degrees and more than 30 major areas of study, such as business, nursing, art, chemistry, and social work. The College's single-gender environment has been proven, in study after study, to foster confidence, ethical leadership, and strong academic success. Saint Mary's College ranks among the top 100 "Best National Liberal Arts Colleges" for 2013 published by U.S. News. Founded in 1844 by the Sisters of the Holy Cross, Saint Mary's College's mission is to educate women and prepare them for postgraduate success whether it's a first job, graduate school, or postgraduate service.