The Hearst Foundations Award Saint Mary's $60K for Scholarships to Reduce Student Debt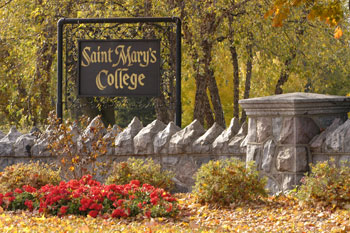 Contact:
Gwen O'Brien
Director of Media Relations
Saint Mary's College
(574) 284-4579
September 13, 2012 (Notre Dame, Ind.)—Saint Mary's College is proud to announce that the Hearst Foundations have awarded the College $60,000 to provide financial assistance to academically talented but economically disadvantaged students, with emphasis on underrepresented minority students at Saint Mary's College. The recipients of the scholarships will be known as William Randolph Hearst Scholars or Hearst Scholars. Up to 24 scholarships will be distributed over the next four years, beginning with four students in the Class of 2014 for the 2012-13 academic year. In all 12 students will likely benefit from scholarships, which will go towards tuition for their junior and senior years. On average, each scholarship would amount to $2,500 a year.
There are three major goals for the William Randolph Hearst Scholarship program:
Meet 100 percent of the financial need of the students selected as Hearst Scholars
Reduce the student loan indebtedness of scholarship recipients by 35 percent
Achieve an 80 percent graduation/degree completion rate among the Hearst Scholars.
"A long term goal of Saint Mary's College is to meet the full financial need of every academically qualified student," said Saint Mary's College President Carol Ann Mooney. "No student who meets Saint Mary's admission requirements should be unable to attend because she lacks the financial resources to do so. An immediate goal is to help students with the greatest financial need, those who qualify for the Pell Grant Program."
Kathleen Brown, director of financial aid and administrator of the Hearst Scholarships, found that among three recent graduating classes (2011, 2010, 2009), students who were Pell Grant recipients graduated with $28,065 in debt. During these years the maximum amount of subsidized loans that students were able to borrow as undergraduates under the federal student loan program was, on average, $19,000. Based on this three-year average, Pell Grant recipients must have also incurred over $9,000 in loan debt from other sources to cover the costs of their education at Saint Mary's College.
"By providing an average of $2,500 per year to Hearst Scholars, and additional aid from Saint Mary's to meet 100 percent of need, we can not only reduce their student loan indebtedness, but just as important, the students and/or their families would not have the added burden of incurring unsubsidized loans," Brown pointed out.
To qualify for the scholarship, recipients need to be full-time students at Saint Mary's College, demonstrate academic promise, meet Pell Grant eligibility requirements, and be U.S. citizens. Preference will be given to historically underrepresented students and students pursuing majors in education, engineering, mathematics, science, social work or nursing. For more information on the William Randolph Hearst Scholarships, please contact Brown at kbrown@saintmarys.edu or call (574) 284-4557.
About Saint Mary's College: Saint Mary's College, Notre Dame, Ind., is a four-year, Catholic, women's institution offering five bachelor's degrees and more than 30 major areas of study. Saint Mary's College has six nationally accredited academic programs: social work, art, music, teacher education, chemistry and nursing. Saint Mary's College ranks among the top 100 "Best National Liberal Arts Colleges" for 2013 published by U.S. News. Founded in 1844, Saint Mary's is a pioneer in the education of women, and is sponsored by the Sisters of the Holy Cross.