For 11th year, Saint Mary's among "Best in the Midwest"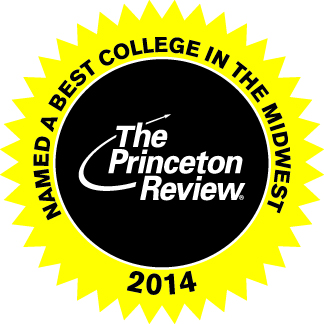 Contact:
Gwen O'Brien 
Director of Media Relations
Saint Mary's College
Notre Dame, IN 46556
(574) 284-4579
August 8, 2013 (Notre Dame, Ind.)—The Princeton Review once again lists Saint Mary's College among the best colleges and universities in the Midwest. The education services company widely known for its test preparation programs and college and graduate school guides selected the school as one of 155 institutions listed in the "Best in the Midwest" section of its website feature "2014 Best Colleges: Region by Region," posted this week.* Saint Mary's College has held the "Best in the Midwest" designation every year since The Princeton Review began the "Best Colleges: Region by Region" categorizations eleven years ago. The Review lists, but does not rank, the colleges.
"We are very pleased to once again be included among The Princeton Review's 'Best in the Midwest,'" said Saint Mary's College President Carol Ann Mooney. "Our commitment to an excellent intellectual and academic experience for our students is unwavering. Our graduates are our best recruiters. Their accomplishments speak volumes about the quality of the educational experience they received here."
The "Best in the Midwest" colleges are located in twelve states: Iowa, Illinois, Indiana, Kansas, Michigan, Minnesota, Missouri, Nebraska, North Dakota, Ohio, South Dakota, and Wisconsin. The Princeton Review also designated 226 colleges in the Northeast, 124 in the West, and 138 in the Southeast as best in their locales. The 643 colleges named among the "regional best" represents about 25 percent of the nation's 2,500 four-year colleges.
"We're pleased to recommend these colleges to users of our site as the best schools to earn their undergraduate degrees," said Princeton Review's Senior Vice President and Publisher Robert Franek. "From several hundred schools in each region, we winnowed our list based on institutional data we collected directly from the schools, our visits to schools over the years, and the opinions of our staff, plus college counselors and advisors whose recommendations we invite. We also take into account what students at the schools reported to us. Only schools that permit us to independently survey their students are eligible to be considered for our regional 'best' lists."
According to one student review posted on The Princeton Review's website, Saint Mary's "has a strong academic approach that also values spirituality" and "professors [who] are willing to help students whenever needed, but they by no means [hold] our hands…they push their students to achieve."
*Media: To see the list, login in the upper right hand corner of the screen. Login is media@review.com and password is "media." Then search "Best Regional Colleges" and click on "MW" for Midwest.
About Saint Mary's College: Saint Mary's College, Notre Dame, Ind., is a four-year, Catholic, residential, women's liberal arts college offering five bachelor's degrees and more than 30 major areas of study, such as business, nursing, art, chemistry, and social work. The College's single-gender environment has been proven, in study after study, to foster confidence, ethical leadership, and strong academic success. Saint Mary's College ranks among the top 100 "Best National Liberal Arts Colleges" for 2013 published by U.S. News. Founded in 1844 by the Sisters of the Holy Cross, Saint Mary's College's mission is to educate women and prepare them for postgraduate success whether it's a first job, graduate school, or postgraduate service.