"The Snail and the Whale," a Family-Oriented Production, Coming to College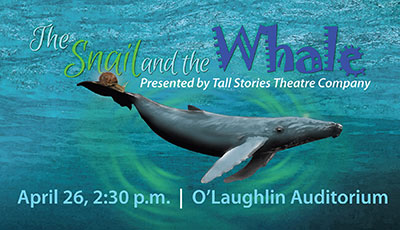 Contact:
Gwen O'Brien
Director of Media Relations
Saint Mary's College
(574) 284-4579
March 27, 2014 (Notre Dame, Ind.)— Saint Mary's will welcome the Tall Stories Theatre Company to campus to perform The Snail and the Whale on Saturday, April 26 at 2:30 p.m. in O'Laughlin Auditorium. Click for a campus map. This family-oriented production is the last installment of this year's Shaheen/Duggan Performing Arts Series. Ticket prices range from $10-15 and can be purchased at MoreauCenter.com.
The Snail and the Whale is the story of a snail that hitches a ride on the tail of a humpback whale in an effort to explore the world. When the whale becomes beached, the snail takes it upon herself to save the beloved creature. The story is told through the eyes of daring young girl and highlights her relationship with her seafaring father.
The Tall Stories Theater Company is based out of the United Kingdom but works out of Texas for their performances in the United States. Between the winter and summer seasons of 2014, The Snail and The Whale will be touring all over the United States, as well as in Canada and Bermuda. The play includes six different parts that will be played by three actors, with each member being double cast.  
The show features live music that will be accompanied by a violin on stage. "The show is narrated with upbeat music so it will be very lively and active for the children", said Director of Special Events Richard Baxter. "This is going to be a really fun and heartwarming show."

The Snail and the Whale is intended for children ages 4-8, but will be fun to watch at any age.
About Saint Mary's College: Saint Mary's College, Notre Dame, Ind., is a four-year, Catholic, residential, women's liberal arts college offering five bachelor's degrees and more than 30 major areas of study, such as business, nursing, art, chemistry, and social work. The College's single-gender environment has been proven, in study after study, to foster confidence, ethical leadership, and strong academic success. Saint Mary's College ranks 76 among the 248 "Best National Liberal Arts Colleges" for 2014 published by U.S. News and World Report. Founded in 1844 by the Sisters of the Holy Cross, Saint Mary's College's mission is to educate women and prepare them for postgraduate success whether it's a first job, graduate school, or postgraduate service.