"The Secret Garden" is Friday and Saturday (Small Fire Will Not Affect Production)
Submitted by

gobrien

on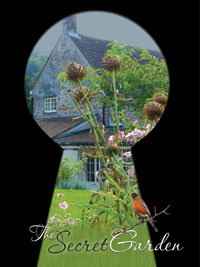 NOTE: A small fire in a storage area in the basement of Moreau Center for the Arts early Saturday morning will not affect next weekend's production of the musical "The Secret Garden." The building is open for classes and business as usual. The musical will be performed Friday, November 9 and Saturday, November 10 in O'Laughlin Auditorium. We hope you will join us for this magical production by the theatre program.
Contact:
Gwen O'Brien
Director of Media Relations
Saint Mary's College
(574) 284-4579
October 8, 2012 (Notre Dame, Ind.)—The Saint Mary's College Department of Communication Studies, Dance, and Theatre is proud to present the musical "The Secret Garden" as the fall musical production.

With a cast comprising of students from Saint Mary's, University of Notre Dame, Holy Cross College and IU South Bend and community members, the musical will be performed Friday, November 9 at 7:30 p.m. and Saturday, November 10 at 2:30 p.m. and 7:30 p.m. Performances will be held in O'Laughlin Auditorium. Click for a campus map. Tickets are $8-13 and available at moreaucenter.com or the box office. 

Based on the book by Frances Hogson Burnett, this enchanting musical tells the story of Mary Lennox. Becoming orphaned while living in colonial India, she is sent to live with her uncle in Yorkshire, England. Her uncle, however, is grieving the loss of his wife, Lily, and the condition of his bedridden son, Colin. When Mary discovers the secret Lily left behind, the power of her belief, courage—and a bit of magic—brings the disparate family together under the spell of its beauty.

The audience can expect to see the performance take on a new phenomenon, projected scenery, an adaptation that theatre professor and director Mark Abram-Copenhaver explains will make the performance more theatrical. "The ghosts of Mary's past, called dreamers, will narrate and always be present on stage. Everything will be white, even dreamers are wearing white," he said.  
Scenery will then be projected onto the stage, creating the environment.  The images will then move while the characters are in motion. "The actors are performing in the middle of a living collage," he added.

Abram-Copenhaver explains that "The Secret Garden" was not written as a children's story. "It was created as a full-scale Broadway musical for families and adult audiences."
"The Secret Garden" opened on Broadway in April 1991 and enjoyed a 709-performance run. The score includes the celebrated songs "How Could I Ever Know?" and "Lily's Eyes."
About Saint Mary's College: Saint Mary's College, Notre Dame, Ind., is a four-year, Catholic, women's institution offering five bachelor's degrees and more than 30 major areas of study. Saint Mary's College has six nationally accredited academic programs: social work, art, music, teacher education, chemistry and nursing. Saint Mary's College ranks among the top 100 "Best National Liberal Arts Colleges" for 2013 published by U.S. News. Founded in 1844, Saint Mary's is a pioneer in the education of women, and is sponsored by the Sisters of the Holy Cross.
Event date:
Friday, November 9, 2012 - 05:00