Tuition, Room and Board Rates for 2012-13 Announced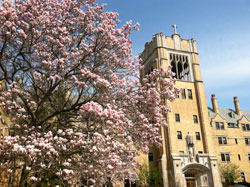 Contact:
Gwen O'Brien
Director of Media Relations
Saint Mary's College
(574) 284-4579
March 19, 2012 (Notre Dame, Ind.)—The Saint Mary's College Board of Trustees recently approved a 3.9% increase in tuition, fees, room, and board for the 2012-13 academic year. Tuition and fees are set at $33,280 and room and board set at $10,140. Tuition, room, and board represent the College's main sources of revenue, comprising 80 percent of the college's operating revenue. The remaining 20 percent is supported by gifts from Saint Mary's generous alumnae and friends and by earnings of the College's endowment.
"The College has worked hard to manage its costs in order to keep this increase to a minimum," said Vice President for Finance and Administration Richard Speller in a letter to parents today. "We know and appreciate the commitment you have made to provide your daughter with a Saint Mary's education. And you, better than anyone, know the impact this experience has had on her life and how it has contributed to her growth as a young woman who will someday make her mark in our world."
The 2012-13 charges permit the College to sustain and enhance its strong academic offerings and maintain campus facilities. The College remains committed to supporting its many innovative educational programs and a first-rate faculty.
Nearly one-third of Saint Mary's operating budget is devoted to financial aid, in an effort to make the College's nationally recognized liberal arts education as affordable as possible. The end result is that, for some students, the cost of attending Saint Mary's is lower than that of attending a public university.
About Saint Mary's College: Saint Mary's College, Notre Dame, Ind., is a four-year, Catholic, women's institution offering five bachelor's degrees and more than 30 major areas of study. Saint Mary's College has six nationally accredited academic programs: social work, art, music, teacher education, chemistry and nursing. Saint Mary's College ranks among the top 100 "Best National Liberal Arts Colleges" for 2012 published by U.S.News and World Report. Founded in 1844, Saint Mary's is a pioneer in the education of women, and is sponsored by the Sisters of the Holy Cross.