Two Students Receive Prestigious Orr Fellowships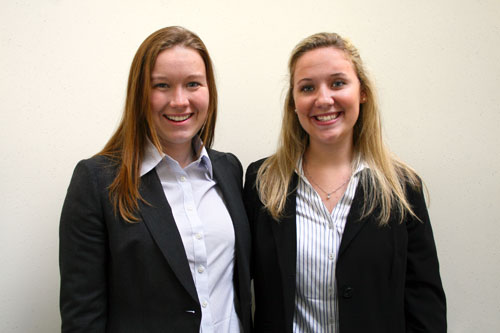 Amanda Lester '12 (left) and Melissa Jackson '12 were recently
named Orr Fellows.
Contact:
Gwen O'Brien
Director of Media Relations
Saint Mary's College
Notre Dame, Ind.
(574) 284-4579
December 16, 2011 (Notre Dame, Ind.)—Saint Mary's College is proud to announce that seniors Amanda Lester '12 and Melissa Jackson '12 were recently named Orr Fellows. Lester is from Houston, Tex. and Jackson is from Gloucester City, N.J. They are the first Saint Mary's College students to receive this honor.
Commonly referred to as the Orr Fellowship, the Governor Bob Orr Indiana Entrepreneurial Fellowship provides a unique opportunity to soon-to-be college graduates. About 25 Orr Fellows are selected each year from a couple thousand applicants to break into the professional world through paid positions with high-growth Indiana companies. Applicants must be natives of Indiana or have attended a college/university in the state. During their two-year tenure, Orr Fellows gain executive-level mentorship at their host companies and build professional and peer networks. The Orr Fellowship was established in 2001. 
Upon graduation in May, Lester is assigned to work for TinderBox, a company that provides web-based solutions for businesses to create, manage, deliver, and track interactive proposals and communications. Jackson will work for Aprimo Inc., an on-demand marketing software solutions company. TinderBox and Aprimo are both located in Indianapolis.
"TinderBox was my first choice and I am really excited about the prospects. I will be the fifth full-time employee, the only woman, and the only non-engineer," said Lester, a communication studies major who is also earning a minor in peace studies at the University of Notre Dame.
"My official role at TinderBox is still being sorted out, but I believe I will be primarily responsible for the marketing function, media interaction, Internet, and social media development. It is a terrific opportunity to network with established business leaders in the Indianapolis community and to grow both professionally and personally," Lester added.
Jackson, a business administration major with concentrations in marketing and finance, is just as enthusiastic about her assignment.
"I am extremely excited to work for Aprimo because I have heard nothing but great things about the company and I believe it is a great place to launch my career," said Jackson. The Indiana Chamber of Commerce has twice named Aprimo as one of the Best Places to Work in Indiana.
"Working so closely with the Chief Marketing Officer of a fairly large firm is not something that you typically get at an entry-level position and I am extremely lucky to be given this opportunity and I plan to take full advantage of such a unique experience," said Jackson.
The process of attaining the fellowships is not the first time Lester and Jackson have worked toward a common goal. The pair are among the founders of BTG (Bridging the Gap) Advertising, a company they started last academic year while taking the entrepreneurial New Venture course. During the two-semester class at Saint Mary's, students learned how to develop a business concept into a viable company. 
"Creating BTG Advertising took a great deal of time and effort. We had to do everything from developing a feasible idea, to writing a business plan, to pitching to lenders, and even launching the business as well as generating sales. Through this process we began to understand exactly what it takes to successfully run your own company," said Jackson.
South Bend businesses pay BTG to advertise on the 22" monitor the ad company installed in the trolley that travels between Saint Mary's and Notre Dame. Trolley riders are a captive audience for advertisers, "bridging the gap" between the businesses and students. The company is still running and is profitable.
"As of now, our plan is to continue with the business after we graduate," Lester said. "We have identified some students who will run the operations on campus next year. I plan to stay on as the Chief Executive Offer and will play more of an administrative role next year. I will focus my time on expanding BTG Advertising to universities around the country and adding more services."
Susan Vance, the business law and accounting professor who teaches the New Venture course, is proud of her students. "I am thrilled to see these New Venture students move on to their next 'new venture,'" she said. "I think having taken the class gave both Amanda and Melissa a leg up in the interview process. They could show that they knew what it takes to take a new company to the next level because they've done it. They learned how to think creatively and outside the box and how to problem solve and to persevere when they encountered setbacks during the launch phase. These skills will be invaluable to them as they start their new jobs as Orr Fellows."
The Orr Fellowship's Recruitment Process was about four months long, according to Lester and Jackson. It involved written applications, resume submissions, and a series of formal interviews with the Orr Fellowship selection committee. As the number of candidates was narrowed down, the process evolved into informal local receptions. The final interviews occurred in Indianapolis with the prospective host companies, where candidates were matched with the companies' needs.
Upon completion of the two-year commitment, Orr Fellows take international trip to an emerging market of their choice, all expenses paid.
About Saint Mary's College: Saint Mary's College, Notre Dame, Ind., is a four-year, Catholic, women's institution offering five bachelor's degrees and more than 30 major areas of study. Saint Mary's College has six nationally accredited academic programs: social work, art, music, teacher education, chemistry and nursing. Saint Mary's College ranks among the top 100 "Best National Liberal Arts Colleges" for 2012 published by U.S.News and World Report. Founded in 1844, Saint Mary's is a pioneer in the education of women, and is sponsored by the Sisters of the Holy Cross.