Author/Journalist to Speak about Swedish Suffrage Movement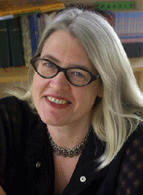 Ulrika Knutson
Contact:
Gwen O'Brien
Director of Media Relations
Saint Mary's College
(574) 284-4579
October 19, 2011 (Notre Dame, Ind.)—Saint Mary's College is proud to welcome Swedish author, journalist, and radio interviewer Ulrika Knutson to speak at the College on Wednesday, October 26. Knutson, chair of the Swedish National Press Club, will offer a talk titled "Swedish Women on the Verge of a Breakthrough: The Fogelstad Five." The lecture on the Swedish suffragist movement, about which Knutson has written, will take place at the women's college at 7:30 p.m. in Welsh Parlor of Haggar College Center. The event is free and open to the public.
The Swedish Society for Women Suffrage was founded in 1902. It wasn't until 1921 that Swedish women had secured their right to vote. A year later "The Fogelstad Five" became the first five women elected to the Swedish Parliament. They focused on feminist issues such as equal salaries for women and access to all official professions for both males and females. 
The Fogelstad Five were Elisabeth Tamm, Ada Nilsson, Kertin Hasselgren, Honorine Hermelin, and Elin Wagner. Tamm owned an estate called Fogelstad where she and the others started a school for civic training for women known as The Women's College for Civic Training at Fogelstad. The school contributed to political life and development in Sweden. About 2,000 women received their political education there and many became politically active.
"The talk will explain differences between the Swedish and American suffragist movements, and show how the Fogelstad Five's school helped sustain a women's movement that unified women of all classes and walks of life," said Rosalind Clark, chair of the Department of English.
The talk is sponsored by the Saint Mary's College Department of English, Department of History, Department of Communication Studies, Dance and Theatre, the Women's Studies program, and by the Center for Women Intercultural Leadership (CWIL).
Download a campus map.
About Saint Mary's College: Saint Mary's College, Notre Dame, Ind., is a four-year, Catholic, women's institution offering five bachelor's degrees and more than 30 major areas of study. Saint Mary's College has six nationally accredited academic programs: social work, art, music, teacher education, chemistry and nursing. Saint Mary's College ranks among the top 100 "Best National Liberal Arts Colleges" for 2012 published by U.S.News and World Report. Founded in 1844, Saint Mary's is a pioneer in the education of women, and is sponsored by the Sisters of the Holy Cross.