Leadership Styles is Subject of THRIVE Talk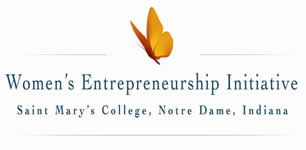 Contact:
Gwen O'Brien
Director of Media Relations
Saint Mary's College
(574) 284-4579
March 19, 2014 (Notre Dame, Ind.)— The Women's Entrepreneurship Initiative (WEI) at Saint Mary's College and 1st Source Bank will co-host the next installment of the THRIVE seminar series titled, "Leadership Styles: Understanding Everyone's Potential." Psychologist Milene Jeffirs is the featured speaker. The event, which is free and open to the public, will be held on Thursday, March 27 from 8 to 9:30 a.m. in Stapleton Lounge of Le Mans Hall. A complimentary breakfast will be served. Click for a campus map.

"I am grateful for 1st Source Bank's support in partnering with Saint Mary's College to provide an opportunity for personal and professional development for women business leaders," said Martha Smith, WEI's project director. "Milene Jeffirs structures leadership workshops in a way that encourages all attendees to participate actively in the program, maximizing the value of the event and the takeaways received."
Jeffirs will lead participants through a series of exercises to understand their own unique leadership style as well as the leadership styles of others in the workplace in an effort to better foster teamwork and collaboration. 
Jeffirs is the founder of "Connect: A Bullying Prevention Program" for children, teens and adults and is currently implementing the program in all the public schools in Plymouth. She has collaborated with and trained staff members and administrators in more than 50 schools, organizations, and businesses in Brazil and is the co-author of the children's book, Bullying: When Joking Isn't Funny.
"We are excited to sponsor this interactive presentation by Milene Jeffirs," said Julianna Herring, vice president and business banker at 1st Source. "The THRIVE series is a very successful partnership between 1st Source Bank and Saint Mary's College to support women leaders throughout our community." 
Space for the event is limited and those interested must RSVP at wei@saintmarys.edu or online at wei.saintmarys.edu/thrive.
About Saint Mary's College: Saint Mary's College, Notre Dame, Ind., is a four-year, Catholic, residential, women's liberal arts college offering five bachelor's degrees and more than 30 major areas of study, such as business, nursing, art, chemistry, and social work. The College's single-gender environment has been proven, in study after study, to foster confidence, ethical leadership, and strong academic success. Saint Mary's College ranks 76 among the 248 "Best National Liberal Arts Colleges" for 2014 published by U.S. News and World Report. Founded in 1844 by the Sisters of the Holy Cross, Saint Mary's College's mission is to educate women and prepare them for postgraduate success whether it's a first job, graduate school, or postgraduate service.