Winter Wonderland to Bring Holiday Festivities to Area Children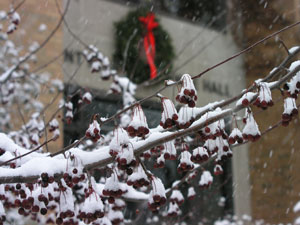 Contact:
Gwen O'Brien
Director of Media Relations
Saint Mary's College
(574) 284-4579
November 18, 2013 (Notre Dame, Ind.)—Saint Mary's College students will host Winter Wonderland, a Christmas event for children affiliated with South Bend public schools, the Center for the Homeless, and Robinson Community Center on Saturday, Dec. 7 from 11 a.m. to 1:30 p.m. in the Student Center. Children of Saint Mary's College faculty and staff are also invited to the event. Click for a campus map.
The fourth annual Winter Wonderland is organized by the Traditional Board, a part of Student Activities Board, and Co-Campus, an organization with representatives from other area universities. Children will decorate Christmas cookies, create winter crafts, and play games. There will also be special appearances by Santa Claus and a few University of Notre Dame athletes.
"Winter Wonderland is an important event because it brings the community together and puts everyone in the holiday spirit," Nicole DelMonte, co-chair of the Traditional Board said.
"This event allows families from the area to attend a fun, free day where children can participate in crafts and even take a picture with Santa."
The media is invited to cover the event. About 75 families are expected to attend.
About Saint Mary's College: Saint Mary's College, Notre Dame, Ind., is a four-year, Catholic residential, women's liberal arts college offering five bachelor's degrees and more than 30 major areas of study, such as business, nursing, art, chemistry, and social work. The College's single-gender environment has been proven, in study after study, to foster confidence, ethical leadership, and strong academic success. Saint Mary's College ranks 76 among the 248 "Best National Liberal Arts Colleges" for 2014 published by U.S. News and World Report. Founded in 1844 by the Sisters of the Holy Cross, Saint Mary's College's mission is to educate women and prepare them for postgraduate success whether it's a first job, graduate school, or postgraduate service.