"Diamond Dreams" Baseball Exhibit on Display in Library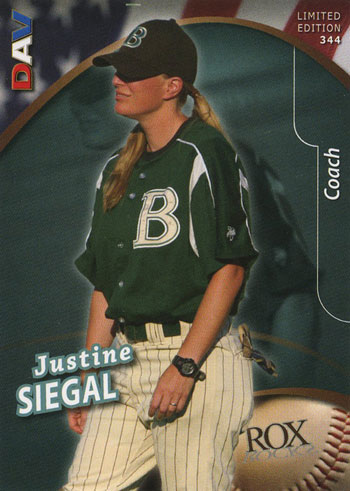 Contact:
Gwen O'Brien
Director of Media Relations
Saint Mary's College
gobrien@saintmarys.edu
(574) 284-4579
April 9, 2012 (Notre Dame, Ind.)—Saint Mary's College, a women's college, is proud to host a two month-long exhibit in the Cushwa-Leighton Library starting Monday, April 16 called "Diamond Dreams." This event includes a lecture entitled "Diamond Dreams—Girls and Women in Baseball" by Justine Siegal, founder of Baseball for All, a non-profit organization that advocates that both sexes be allowed to play ball. Siegal's lecture will be held Wednesday, April 18 at 7 p.m. in the Vander Vennet Theatre, on the ground level of the Student Center (campus map). The lecture and exhibit are free and open to the public. (Click for library hours.)
"If you tell a girl she can't play baseball, what else is she going to think she can't do?" Siegal asked rhetorically.
John Kovach, the Saint Mary's College archivist and a women's baseball advocate and enthusiast, is the coordinator of the exhibit and the lecture. Kovach has an extensive collection of women's baseball memorabilia, and about 140 of his images and artifacts will be on display at the library until June 18. The exhibit looks at the history of girls and women in baseball from the time they first became involved in 1866 through the present. The exhibit will focus on the movie "A League of Their Own," which came out 20 years ago this summer. Kovach is especially excited to bring Siegal to campus.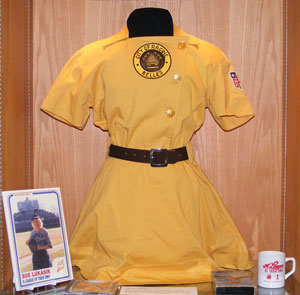 Uniform from "A League of Their Own," part of John Kovach's
"Women in Baseball" collection on display at the library.
"It's exciting to have baseball pioneer and advocate Justine Siegal as a speaker during the first week of the exhibit," Kovach said. "Her lecture at Saint Mary's College will speak of the continuing gains that women are making in the game of baseball and how much work still needs to be done to level the playing field on what is traditionally thought of as a male sport. Justine continues to be at the forefront of expanding opportunities for younger female baseball players both in the United States and throughout the world."
Erin Sullivan, Saint Mary's softball coach, says the exhibit and lecture sound inspirational.
"It's such an honor to hear from the women who really paved the way not only for baseball and softball, but for women's athletics as a whole," Sullivan said. "Every female athlete should be grateful for their opportunities today, thanks to the efforts and dedication of these women."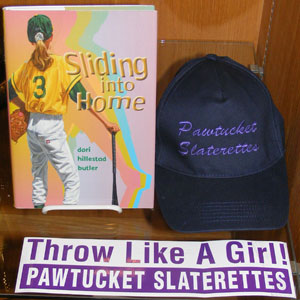 Another item in Kovach's "Women in Baseball" collection.Siegal's career is driven by her love for baseball. At 23 years old, she founded her baseball organization. It began as a women's league in Cleveland, Ohio and turned into a national association with an international presence. Baseball For All provides meaningful opportunities and instruction in baseball, especially for girls. The foundation's goal is to change the gender landscape of baseball.  
Siegal's lifelong dream was to coach men's baseball. Siegal was told that no man would listen to her as a coach and she has proved them wrong.  For three years, Siegal was an assistant baseball coach for Springfield College and was the only female coach in the collegiate baseball ranks. In 2009, Siegal became the first woman to coach first base in men's professional baseball (Brockton Rox, CanAm League).
Siegal made history again, in 2011 when at the age of 36 she became the first woman to throw batting practice to a Major League Baseball (MLB) team (Cleveland Indians, on February 22, 2011). Also in 2011, Siegal graduated from MLB Scout School and was honored by the Women's Sport Foundation. USA Baseball nominated Siegal for the International Olympic Committee (IOC) Women and Sport Awards. She is the co-chair for the Women's Committee for the Society of American Baseball Research.  In addition, Siegal serves as a Coach and Technical Commissioner for the International Baseball Federation.
Siegal is the director of sport partnerships at the Center for Sport in Society at Northeastern University. She received her bachelor's degree from St. Olaf College. Her self-designed concentration of study was titled: "Leadership: Religion, Military, and Baseball." She is a Ph.D. Candidate at Springfield College where she has studied sport and exercise psychology.  
About Saint Mary's College: Saint Mary's College, Notre Dame, Ind., is a four-year, Catholic, women's institution offering five bachelor's degrees and more than 30 major areas of study. Saint Mary's College has six nationally accredited academic programs: social work, art, music, teacher education, chemistry and nursing. Saint Mary's College ranks among the top 100 "Best National Liberal Arts Colleges" for 2012 published by U.S.News and World Report. Founded in 1844, Saint Mary's is a pioneer in the education of women, and is sponsored by the Sisters of the Holy Cross.