Women's Choir Spring Break Tour to End with Homecoming Concert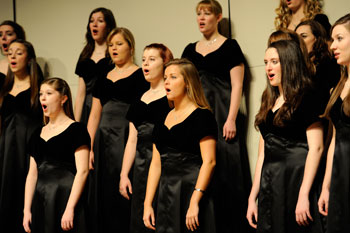 The Saint Mary's College Women's Choir will tour the Midwest
and South over spring break before returning to campus for the
Homecoming Concert on March 22.Contact:
Gwen O'Brien
Director of Media Relations
Saint Mary's College
(574) 284-4579
February 26, 2013 (Notre Dame, Ind.)—The Saint Mary's College Women's Choir will spend this year's spring break touring various states, returning to campus for a Homecoming Concert on March 22. The choir will spend March 8-15 traveling to cities in Indiana, Kentucky, Tennessee, Georgia, and Florida singing at churches and schools. The Women's Choir is a select 41-voice ensemble that regularly commissions and performs new works for women's voices.
Nancy Menk, choral director and music professor, has fully prepared the choir with varied challenging music. It will be primarily a program of new music for women's voices. We're always trying to promote new music for women's voices from the last 20 years. Some are by American composers, but there's also an Icelandic composer, a Spanish composer, an African American Composer, and a Korean composer." Bellacappella, the acappella group consisting of girls from Women's Choir, will perform during various concerts as well.
The members of Women's Choir will have a chance to sightsee during their free time. Activities will include tours of the NCAA Hall of Champions in Indianapolis, the Kentucky Derby Museum in Louisville, and the Country Music Hall of Fame and Museum in Nashville, Tennessee, along with Everglades Airboat Rides in Ft. Lauderdale, Florida.
During spring break of 2011, the Women's Choir traveled through China for a week, touring internationally for the first time. This year's tour stands out from past years because there will be a young women's choir joining the Saint Mary's Women's Choir in every concert.
The Homecoming Concert, to be held at 7:30 p.m. in Church of Our Lady of Loretto at Saint Mary's, will be the big finish to the tour.
"We get to sing in front of the community after we've really owned the music. The parents of the girls and the campus can see what we've been doing," Menk said. "By the time we come back, we just come together and have made the music about the best that we can. The best part is to watch the growth in the repertoire. And also to watch the choir coming together."
Tickets for the Homecoming Concert are free for SMC/DN/HCC students, $8 for faculty, staff, $9 for senior citizens, and $11 for adults. Tickets can be purchased on the Moreau Center for the Arts website at www.MoreauCenter.com or by calling the Box Office at (574) 284-4626.
About Saint Mary's College: Saint Mary's College, Notre Dame, Ind., is a four-year, Catholic, women's institution offering five bachelor's degrees and more than 30 major areas of study. Saint Mary's College has six nationally accredited academic programs: social work, art, music, teacher education, chemistry and nursing. Saint Mary's College ranks among the top 100 "Best National Liberal Arts Colleges" for 2013 published by U.S. News. Founded in 1844, Saint Mary's is a pioneer in the education of women, and is sponsored by the Sisters of the Holy Cross.