Junior Receives ND Nano Research Fellowship in Memory of Ziqi Zhang '15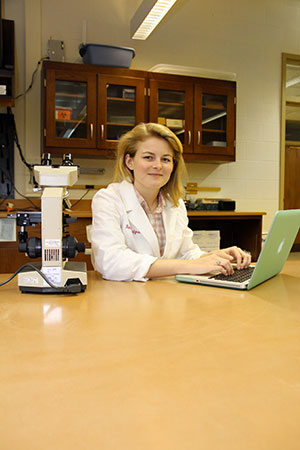 Saint Mary's student Rachael Bridgman '14
was awarded a fellowship through the
Notre Dame Center for Nano Science and
Technology in memory of Ziqi Zhang '15.Contact:
Gwen O'Brien
Director of Media Relations
Saint Mary's College
Notre Dame, Ind.
(574) 284-4579
April 25, 2013 (Notre Dame, Ind.)—The University of Notre Dame Center for Nano Science and Technology recently awarded Saint Mary's College student Rachael Bridgman '14 of Dayton, Ohio the 2013 NDnano Undergraduate Research Fellowship (NURF) dedicated to the memory of Ziqi Zhang '15. (Click and scroll down to read specifics about Bridgman's summer research.)
Zhang tragically lost her life in October when the bicycle she was riding was struck by a car on the thoroughfare between Saint Mary's and Notre Dame. Zhang had participated in last summer's NURF program as a rising sophomore and was a student in the Dual Degree Program in Engineering at Saint Mary's and Notre Dame.

Alice Siqin Yang, assistant director of global education at the Center for Women's Intercultural Leadership at Saint Mary's, shared what the NURF program meant for Zhang and her family.
"Ziqi had just finished her first year studying at Saint Mary's when she participated in this research project at Notre Dame's Nano Center. All of the other Chinese international students at Saint Mary's returned to China over the summer to visit their families. Ziqi chose to stay in order to gain more lab research experience," said Yang. "It is amazing that she had thought about it, planned, and took action at such a young age. Ziqi was fearless and had the courage to try new things," Yang said.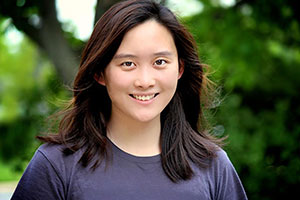 This particular NDnano Undergraduate Research
Fellowship is dedicated to the memory of Ziqi
Zhang '15, who passed away in October 2013
while a student at Saint Mary's College.In a letter to the College following Zhang's death, her parents mentioned that they wanted to "cherish the memories and good traits of Ziqi, who fervently sought knowledge and humanities, studied hard, and looked for ways to solve problems, cherished time, was not afraid of difficulties, and dared to fight. She loved her teachers, elders, school, family, country, and cherished friendships. She loved America and its kind people. She longed for a beautiful and bright future."
Bridgman would like to learn more of Zhang's story in order to make her own NURF experience more significant. Bridgman is interested in cancer research and oncology. She hopes her work this summer will eventually help lead to the detection of malfunctioning proteins on the surface of cells as a means of diagnosing patients with diseases like cancer.
Although Bridgman did not personally know Zhang, she considers her selection for the fellowship to be an honor. She is forever grateful to have been given this opportunity and feels privileged to represent the College. "I am excited to represent Saint Mary's in science. Saint Mary's has a strong legacy and tradition of science and I would like to contribute to its prominence," Bridgman said.
Yang expressed the significance of a Saint Mary's student being awarded this fellowship and her optimism for the future. "I hope Rachael, as well as future recipients of this fellowship, will be inspired by Ziqi's courage for international exploration and dedication to scientific research. I believe that her parents will be comforted by news of this fellowship named for their daughter and feel glad that other students are supported by the same fellowship so students can continue to pursue similar dreams to their daughter's."
Click to read more about the fellowship named for Ziqi Zhang '15.
About Saint Mary's College: Saint Mary's College, Notre Dame, Ind., is a four-year, Catholic, residential, women's liberal arts college offering five bachelor's degrees and more than 30 major areas of study, such as business, nursing, art, chemistry, and social work. The College's single-gender environment has been proven, in study after study, to foster confidence, ethical leadership, and strong academic success. Saint Mary's College ranks among the top 100 "Best National Liberal Arts Colleges" for 2013 published by U.S. News. Founded in 1844 by the Sisters of the Holy Cross, Saint Mary's College's mission is to educate women and prepare them for postgraduate success whether it's a first job, graduate school, or postgraduate service.