College Sponsors House for Rebuilding Together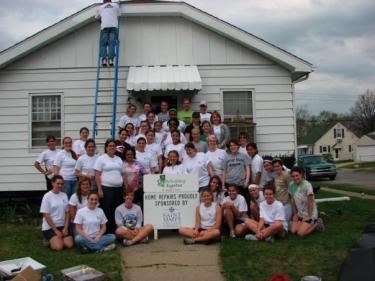 Contact:
Gwen O'Brien
Director of Media Relations
Saint Mary's College
(574) 284-4579
April 10, 2014 (Notre Dame, Ind.)—On Saturday, April 12, Saint Mary's College students, faculty, and staff will participate in Rebuilding Together, a community-driven effort to rehabilitate homes in South Bend. This year is the ninth consecutive year the College has been involved in the program. Around 50 Saint Mary's volunteers will complete tasks such as painting, cleaning, raking, and planting at a home sponsored by the College.
Rebuilding Together is a national program that restores homes throughout the country. Through an application and screening process, Rebuilding Together selects houses to fix up that belong to elderly, disabled, or low-income residents. The St. Joseph County Rebuilding Together chapter was established in 1989. In South Bend, the project focuses on a different neighborhood each year and has improved nearly 675 homes since the program was started.
This year's event will begin at 7 a.m. and end around 3 p.m. In addition to Saint Mary's representatives, volunteers include representatives from schools, businesses, and other service groups. Skilled laborers such as plumbers and roofers also contribute their time and effort to the project.
Director of the Office for Civic and Social Engagement Erika Buhring said, "Rebuilding Together is a wonderful opportunity for volunteers to make an immediate change in the lives of community members. By donating their time and skills, volunteers not only make a difference in the home itself, but they also learn how to collaborate with others and give of themselves in the process."
Rebuilding Together has become a part of the student service experience at Saint Mary's College. Nearly ninety percent of students participate in service. It is through service events, like Rebuilding Together, that students have the opportunity to connect with those in the community in very real and tangible ways.
"Service provides a chance for Saint Mary's volunteers to connect with each other in a meaningful way, as well as other participants from the city as everyone works together to achieve a common goal," Buhring said.
For information on the event or to make a donation to Saint Mary's project, email OCSE or call (574) 284-4573.
OCSE is Saint Mary's College's resource center providing information on community service, one-time volunteer events, service-learning, and special speakers and events relating to community engagement.
For more information, please visit OCSE and Rebuilding Together online.
About Saint Mary's College: Saint Mary's College, Notre Dame, Ind., is a four-year, Catholic, residential, women's liberal arts college offering five bachelor's degrees and more than 30 major areas of study, such as business, nursing, art, chemistry, and social work. The College's single-gender environment has been proven, in study after study, to foster confidence, ethical leadership, and strong academic success. Saint Mary's College ranks 76 among the 248 "Best National Liberal Arts Colleges" for 2014 published by U.S. News and World Report. Founded in 1844 by the Sisters of the Holy Cross, Saint Mary's College's mission is to educate women and prepare them for postgraduate success whether it's a first job, graduate school, or postgraduate service.