South Bend Chamber Singers to Share "The Beauty of Brahms"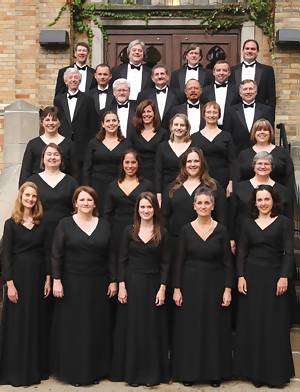 The South Bend Chamber Singers are an
ensemble-in-residence at Saint Mary's College.Contact:
Gwen O'Brien
Director of Media Relations
Saint Mary's College
(574) 284-4579
May 7, 2014 (Notre Dame, Ind.)—The South Bend Chamber Singers (SBCS) will conclude its 25th anniversary with a concert entitled The Beauty of Brahms to be held on Sunday, May 18 at 7:30 p.m. in Church of Our Lady of Loretto on the Saint Mary's campus. The evening will feature Ein Deutsches Requiem, in Johannes Brahms' original transcription for 4-Hand Piano plus Brahms' solo songs and motets. Artists will include pianists David Eicher and Kathleen Keasey, as well as soprano and Saint Mary's College music professor Laurel Thomas, and baritone Stephen Lancaster, a professor at the University of Notre Dame.
"We'll close our 25th anniversary season with a concert featuring the music of German composer Johannes Brahms and highlighting his famous German Requiem," explained Nancy Menk, conductor of the South Bend Chamber Singers and professor of music and director of choral activities at Saint Mary's College.
"Brahms' own arrangement of the orchestration for 4-hand piano will balance perfectly with the size of the Chamber Singers and it will sound glorious in the acoustic of the Church of Loretto. It also gives us a chance to feature our two longest-serving accompanists, David Eicher and Kathleen Keasey," Menk added.   
The SBCS, an ensemble-in-residence at Saint Mary's College, was founded in 1989 and the 30 members have extensive musical backgrounds. The SBCS draws members from throughout north central Indiana and southwestern Michigan. The ensemble concentrates on works by living composers, but its repertoire includes traditional compositions and unusual and complex arrangements.
Click for campus map. Tickets can be purchased online at moreaucenter.com or by visiting the Moreau Center box office in person Monday-Friday, 9 a.m. to 5 p.m. or by calling (574) 284-4626. Ticket process range from $6 for Saint Mary's/Holy Cross/Notre Dame students; $11 for faculty and staff; $13 for senior citizens; and $16 for adults.
About Saint Mary's College: Saint Mary's College, Notre Dame, Ind., is a four-year, Catholic, residential, women's liberal arts college offering five bachelor's degrees and more than 30 major areas of study, such as business, nursing, art, chemistry, and social work. The College's single-gender environment has been proven, in study after study, to foster confidence, ethical leadership, and strong academic success. Saint Mary's College ranks 76 among the 248 "Best National Liberal Arts Colleges" for 2014 published by U.S. News and World Report. Founded in 1844 by the Sisters of the Holy Cross, Saint Mary's College's mission is to educate women and prepare them for postgraduate success whether it's a first job, graduate school, or postgraduate service.