Professor/Interim Associate Dean of Faculty Honored with Spes Unica Award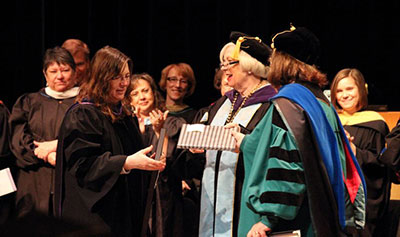 Julie Storme, professor of modern languages and interim associate
dean of faculty, is honored with the Spes Unica Award at Honors
Convocation.Contact:
Gwen O'Brien
Director of Media Relations
Saint Mary's College
(574) 284-4579
May 5, 2014 (Notre Dame, Ind.)— Saint Mary's College Provost and Senior Vice President for Academic Affairs Patricia Fleming presented Julie Storme, professor of modern languages and interim associate dean of faculty, with the Spes Unica Award at Honors Convocation on Sunday, May 4. The recipient of the award is kept secret until the Commencement-related event. The Spes Unica Award recognizes a faculty member's eminent service to Saint Mary's College. Contributions can be in the area of teaching, scholarship/ creative activity and/or service. Storme has been at the College for 28 years.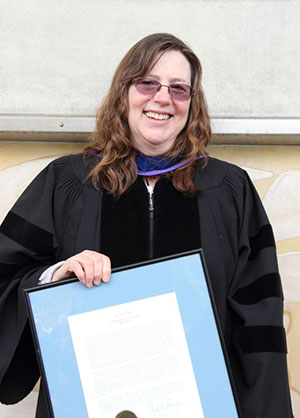 Professor Julie Storme poses with the
Spes Unica Award, which she received
at Honors Convocation.According to his award citation read by Fleming, Storme has spent more than two decades helping Saint Mary's to become a more inclusive environment. She served as a member of the collaborative leadership team that established the Intercultural Studies Program and served two terms as the program's coordinator. Storme played a leading role in the development of the Introduction to Intercultural Studies course. She postponed a sabbatical to serve as co-chair of the design team for intercultural and international learning outcomes that eventually became part of the Sophia Program, the College's new general education program. One of her colleagues wrote of, "her unfaltering dedication to diversity initiatives has changed the way we do things here."
Storme possesses a willingness to take on essential but thankless tasks, according to the citation. Her work with the Sophia Program Curriculum Committee helped bring more structure, coherence, and efficiency through a crucial period in the program's development. She accomplished this while evaluating dozens of classes and working patiently with colleagues to help them understand the new learning outcomes. She also played a leading role in the formation of the Teaching/Learning and Technology Roundtable, and was a member of the Strategic Plan Advisory Committee. Currently she serves as co-chair of the Accreditation Steering Committee. For the past year, she has served as interim associate dean of faculty. 
Storme accomplished all this while retooling her skills to teach Italian, Intercultural Studies, and the literature of Francophone Africa and the Caribbean.
About Saint Mary's College: Saint Mary's College, Notre Dame, Ind., is a four-year, Catholic, residential, women's liberal arts college offering five bachelor's degrees and more than 30 major areas of study, such as business, nursing, art, chemistry, and social work. The College's single-gender environment has been proven, in study after study, to foster confidence, ethical leadership, and strong academic success. Saint Mary's College ranks 76 among the 248 "Best National Liberal Arts Colleges" for 2014 published by U.S. News and World Report. Founded in 1844 by the Sisters of the Holy Cross, Saint Mary's College's mission is to educate women and prepare them for postgraduate success whether it's a first job, graduate school, or postgraduate service.