2017 Outstanding Senior Award Announced
May 10, 2017 (Notre Dame, Ind.) — Every year Saint Mary's College honors three categories of seniors as exceptional representatives of their graduating class. The valedictorian(s) reflects the mind, the Lumen Christi Award recipient represents the soul, and the Outstanding Senior embodies the heart of the class.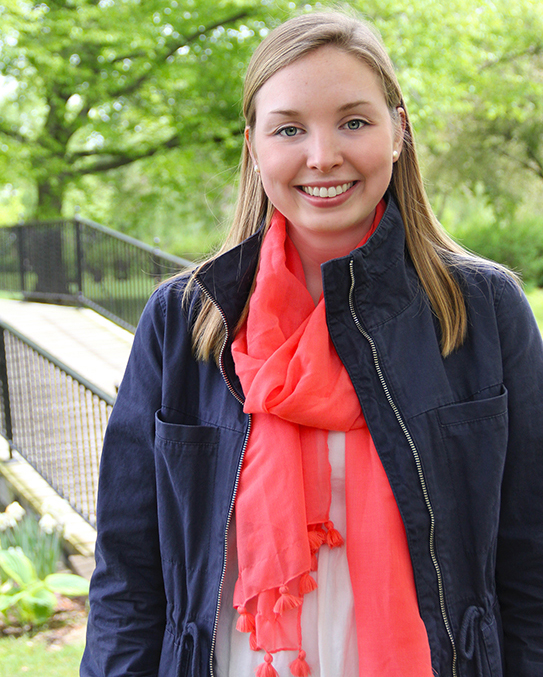 The Saint Mary's College Alumnae Association is proud to announce the recipient of this year's Outstanding Senior Award is Alex Winegar '17. She will be honored at the Alumnae Association Champagne Brunch on Monday, May 15 as part of Senior Week festivities leading up to Commencement, Saturday, May 20.
Tradition dictates that the recipient of this award be someone who carries out the beliefs of her faith in daily living and is distinguished by scholarship, leadership, and outstanding dedication to Saint Mary's—as demonstrated through participation in both curricular and extracurricular activities.
Winegar's nominator, Rita Tuse, administrative assistant in the Department of Modern Languages, said, "Alex is one of the most exceptional young women I have ever had the privilege to meet. She is forward-thinking, helpful, kind, and genuine. Alex is also an excellent student, admired and respected by her peers, and possesses a positive attitude."
Winegar is president of the National Student Speech Language Hearing Association (NSSLHA). She credited her professors in Communicative Sciences and Disorders and her clinical practicum for helping to reaffirm audiology as her ideal career choice.
"Through my classroom and field experiences, I learned how to be professional, confident, and compassionate toward my clients," Winegar said. "My confidence continued to grow when I began making the Dean's List in my junior year and became a member of Psi Chi, the psychology honors society, in my senior year."
Winegar participated in the Saint Mary's College Dance Marathon organization, where she worked to help benefit Riley Children's Hospital in Indianapolis. Sitting on the Dance Marathon corporate partnerships committee reinforced for her the importance of philanthropy. She commented that the Dance Marathon committee, together with her NSSLHA presidency, "taught me the importance of being involved and not allowing myself to sit on the sidelines."
Through Saint Mary's College, Winegar lent her hands and heart to Rebuilding Together, an organization in the South Bend community that gathers volunteers for two Saturdays in April to rehabilitate the homes of low-income homeowners and improve neighborhoods.
As associate Saint Mary's editor of The Observer, Winegar wrote many interesting and relevant articles. She welcomed the opportunity to join the Friends with Sisters club, which allowed her "to connect with the history of the College" by developing relationships with the Sisters of the Holy Cross on campus. She also interned and coached with Girls on the Run Michiana at Christ the King School.
"I applied for the internship and coaching position because I wanted to be more involved and connected with the Michiana community that I have called home for the past four years," Winegar said.
Among her numerous activities over the past year, Winegar also found time to undergo surgery and donate bone marrow to someone she did not previously know.
"Saint Mary's College has prepared me to be a better clinician and a better world citizen," Winegar said. "I am prepared for the next chapter of my life because of these experiences."
Her nominator Tuse added, "I believe she will be a shining star in whatever bright future her path leads her."
About Saint Mary's College: Saint Mary's College, Notre Dame, Ind., is a four-year, Catholic, residential, women's liberal arts college offering five bachelor's degrees and more than 30 major areas of study, such as business, nursing, art, chemistry, and social work. Saint Mary's College also offers two graduate degrees: a Master of Science and a Doctorate. All programs that fall under these degrees are co-educational and include a Master of Science in Data Science, a Master of Science in Speech Language Pathology, and a Doctorate of Nursing Practice. Founded in 1844 by the Sisters of the Holy Cross, Saint Mary's College seeks, according to its mission statement, to educate students, develop their talents, and prepare them to make a difference in the world. Follow Saint Mary's College on Twitter @saintmarys and @saintmarysnews.
Contact for News Media: Haleigh Ehmsen, Media Relations Associate, Saint Mary's College, hehmsen@saintmarys.edu (574) 284-5343