Saint Mary's Announces 2019 Outstanding Senior
May 13, 2019 (Notre Dame, Ind.) — The Saint Mary's College Alumnae Association is proud to announce Meredith Mackowicz '19, of Schererville, Indiana, is the recipient of this year's Outstanding Senior Award. She was honored today at the Alumnae Association Champagne Brunch on Monday, May 13 as part of Senior Week festivities leading up to Commencement on Saturday, May 18.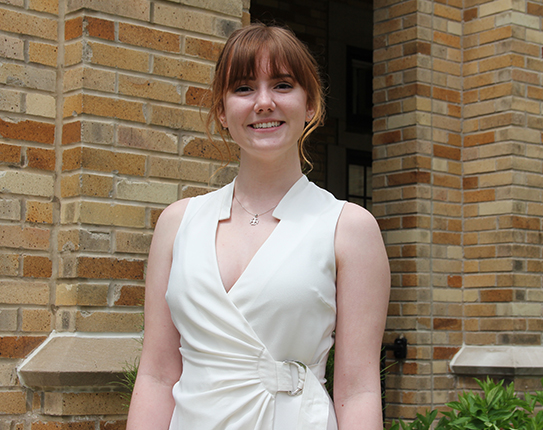 The recipient of the Outstanding Senior Award exemplifies the spirit and values of her school and is distinguished by scholarship, leadership, and outstanding dedication to Saint Mary's through participation in both curricular and extracurricular activities. The award has been presented annually since 1988 and recipients of the award include women who went on to serve in leadership roles like managing partner, deputy director, and vice presidents of corporations as well as in various levels of government.  
Like the alumnae before her Mackowicz has shown her dedication to Saint Mary's and to her peers, evident through her work as a resident advisor in Holy Cross Hall and as an active member of the Belles Against Violence Office (BAVO). Motivated by her deep sense of faith and commitment to serving others, she also served as the student member of the Board of Trustees and voiced student concerns at the highest level of College governance.
Mackowicz has mentored incoming minority, first-generation students through the Belles Connect program. She raises her voice to injustice as a student preacher for Take Back the Night, a community speak-out night to stand against sexual and power-based violence. Inspired by her faith, Meredith advocates for healing through her BAVO service and organized a Belles for Healing vigil on campus.
Mackowicz expressed her gratitude for the opportunities at Saint Mary's. "Reflecting on my time at Saint Mary's has shown me that this experience has meant everything to me," she said. "The women I have met in my time here have assisted me in developing my own voice and for that, I will be forever grateful."
Meredith's passion to serve others is a true embodiment of the missions of Saint Mary's and the Sisters of the Holy Cross. She is an instrument of her faith and understands the impact of her actions to affect the greater good.
About Saint Mary's College: Celebrating over 175 years of empowering women to make a difference in the world, Saint Mary's College is recognized as a pioneer and continued force in the education of women. A Catholic, liberal arts institution in Notre Dame, Indiana, the College offers more than 50 undergraduate academic programs and also offers co-educational master's degrees.
Contact for News Media: Haleigh Ehmsen, Assistant Director of Integrated Communications, Saint Mary's College, hehmsen@saintmarys.edu (574) 284-5343