Saint Mary's Announces New Appointment
January 9, 2019 (Notre Dame, Ind.) — Saint Mary's College has named a new provost and senior vice president for academic affairs. Interim President Nancy Nekvasil announced Titilayo Ufomata (tee-tee-la-yor uuh-foe-mah-tah), former Provost and Dean of Faculty at Hobart and William Smith Colleges, as the new provost at today's College Forum. She will begin her role on June 1, 2019.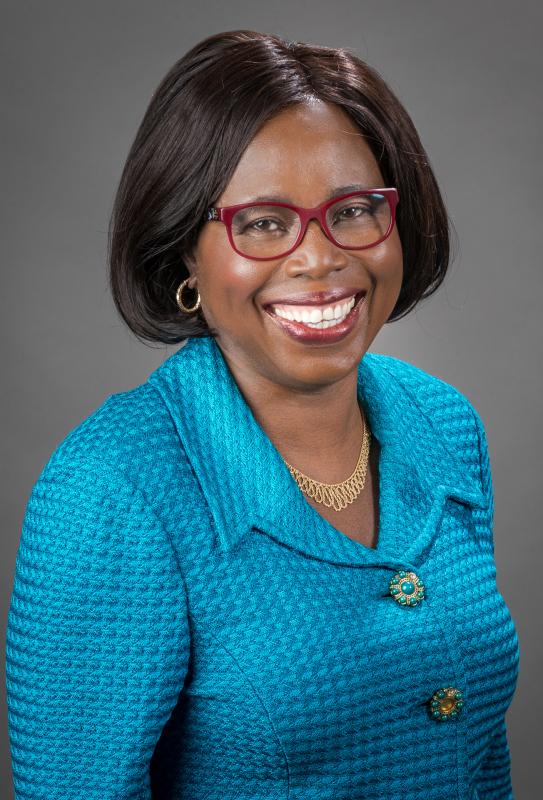 Ufomata brings a wealth of experience to Saint Mary's College. She joined Hobart and William Smith Colleges in 2012 as Provost and Dean of Faculty. In July of 2017, she moved into the role of Special Advisor to the President and Board of Trustees, a position she held last academic year. As Chief Academic Officer, she was a member of the senior staff and provided executive oversight to the academic program, the faculty, and academic support areas. She worked with faculty to strengthen the curriculum and to support students.
Interim President Nancy Nekvasil said the Saint Mary's community looks forward to welcoming Ufomata in June.
"I am thrilled to be welcoming Dr. Titilayo Ufomata as our new Provost and Senior Vice President for Academic Affairs," Nekvasil said. "Titi brings much experience and fresh ideas to this office for both undergraduate and graduate programs."
Prior to joining Hobart and William Smith Colleges, Ufomata was Associate Provost and Distinguished Professor at Kentucky State University, where she taught speech and communication as a tenured Professor. Ufomata's academic career spans over three decades and includes diverse academic and administrative experience. She has published extensively and participated in numerous professional meetings. Her scholarship focuses on phonetics and the intersection of language with gender and identity, and African diaspora populations. She also studies higher education.
Ufomata is a teacher, scholar, and a global citizen. She earned a PhD in phonetics from the University College London and degrees in English from the University of Ibadan, Nigeria. As an alumna of the Harvard Institute of Educational Management and of the Higher Education Resources Services (HERS) Institute, she has participated in The Aspen Institute Deans' Seminar and the American Council on Education's yearlong Institute for New Chief Academic Officers. Ufomata has received several prestigious international awards including the Fulbright International Education Administrators Seminar Award to France, an Associateship of the African Gender Institute, University of Cape Town, a British Academy Visiting Fellowship at the University College London, and is a Laureate of the Council for Development of Social Science Research in Africa. Prior to her appointment at Kentucky State, she served as Assistant Dean of the Faculty of Arts, Hall Mistress, and as Secretary to Congregation at the University of Benin, Nigeria, where she taught English and phonetics.
About Saint Mary's College: Celebrating over 175 years of empowering women to make a difference in the world, Saint Mary's College is recognized as a pioneer and continued force in the education of women. A Catholic, liberal arts institution in Notre Dame, Indiana, the College offers more than 50 undergraduate academic programs and also offers co-educational master's degrees.
Contact for News Media: Haleigh Ehmsen, Assistant Director of Integrated Communications, Saint Mary's College, hehmsen@saintmarys.edu (574) 284-5343