Alumna Hosts Podcast to Support Mental Wellness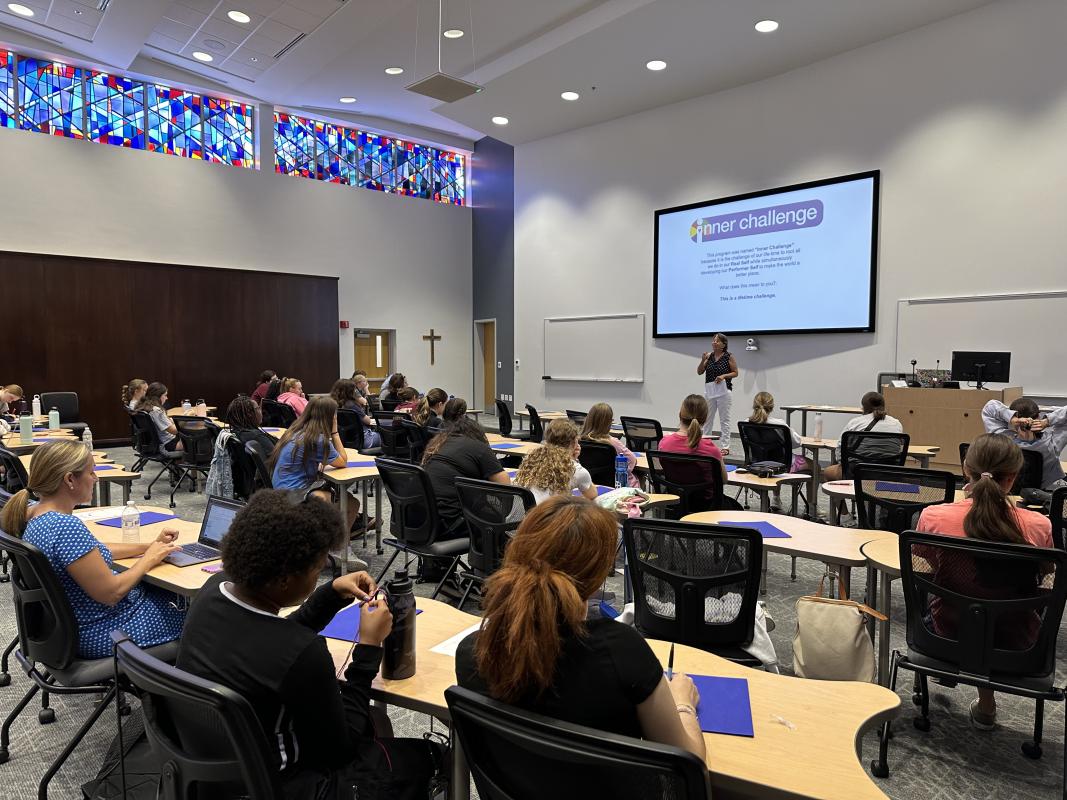 When MJ Murray Vachon '82 graduated from Saint Mary's, she didn't know she was setting out to change lives. With a bachelor's degree in business and minor in Spanish, Murray Vachon would soon recognize her love of helping others directly. She eventually became a licensed clinical social worker, working her first eight years in community mental health. Later, she moved back to South Bend and began working in office therapy.
Today you could describe her as therapist, social worker, teacher, or podcast host, but spend just 10 minutes with her, and Murray Vachon will tell you that those words are only identifiers for how she appears to the outside world.
"I thought in-office therapy would be easier than working in community mental health—which it was in some ways," she says. "But I came to the realization that I was working primarily with teenagers and young adults, the majority of whom didn't have information about what adolescence was, what their life stage was, or have the skills for supporting what I now call 'mental wellness.'"
Her solution to this problem? Along with colleague Toni Henke-Wheeler, another licensed clinical social worker (LCSW) who taught at the College for some years, Murray Vachon developed a one-of-a-kind mental wellness program for junior high girls called "Camp 2000." Camp 2000 was created in 1996 as a way to help girls think about their stage of life—adolescence—and to strengthen their ability to promote their own mental wellness. The class that began in 1994 with just two girls from each junior high school in the county went on to be renamed "Inner Challenge." The course was so well received, it was incorporated into the junior high curriculum at St. Joseph Grade School in South Bend. Many of the modules were also offered to community groups, churches, and businesses.
"It was like having my own lab," says Murray Vachon. "There was really no social-emotional learning as we know it now, which is why my colleague and I created the program. We took it to the school, developed it every year, and changed it. The advent of neuroscience, which wasn't even part of my grad program, allowed us to have much more accurate data and information."
Leaving the middle school in 2018, Murray Vachon was asked to create a one-credit course, Inner Challenge, for first-year football players at the University of Notre Dame, something she would have never anticipated. Thanks to a handful of those athletes, Murray Vachon was encouraged to make Inner Challenge available to a wider audience through a new medium: a podcast.
Inner Challenge Podcast
Inspired jointly by students who expressed how they would love to have access to the Inner Challenge information on their own time,and by changes to teaching and therapy forced by the pandemic, Murray Vachon stepped out of her comfort zone and began recording. Her initial idea was to create just 13 episodes for her waitlist clients. But after teaming up with Notre Dame Student Media under the guidance of Laurie McFadden and Peter Farrough and learning the ropes of podcast production, she turned those first 13 into the show's first season, and made plans for the next.
Season 1 focuses on the fundamentals of mental wellness. Season 2 is 32 episodes that concentrate on mental wellness coaching. "I wanted normal people on the podcast, not experts on the topics, to choose what they want to talk about: procrastination, parenting adult children, grief, a morning routine," says Murray Vachon.
Mental Wellness Tips for Incoming Students
Murray Vachon says our culture today is much more informed when it comes to mental illness. Even so, over the past 10 years spent doing client assessments, she has observed that modern lifestyle choices actually contribute to mental illness. We are not getting enough sleep; we don't understand how cell phone usage depletes our dopamine system, making us more irritable; we're not exercising enough or eating healthy.
As she counsels those transitioning from high school to college, Murray Vachon shares some of her favorite tips. One of her favorite processes she calls "The Rope." The name comes from the rope she actually used at the school to help students visualize their life as a timeline. She encourages students to sit down with the people who raised them and talk through their lives together in the summer before college. During the conversation, she recommends students begin at the start of their life. "Ask your caregivers about the day you were born, memories from when you were a toddler, then in kindergarten, all the way up until the present day." It is, she says, a beautiful process.
Murray Vachon's final piece of advice is to tune into her podcast, Inner Challenge Podcast with MJ Murray Vachon, LCSW. She suggests listeners entering college should start with episodes 30, "Encore!! What is Mental Wellness?"; 31, "Taking on the Mental Wellness Challenge!;" and 43, "Mental Wellness & Cell Phones: Some Solutions!" She begins recording Season 3, focused on how lifting your spirits cultivates mental wellness, in September.
To learn more about Murray Vachon and her podcast, visit her website.
August 4, 2023