Announcing New Vice President for Strategy and Finance
Peter Christensen to join Saint Mary's leadership team in January, 2024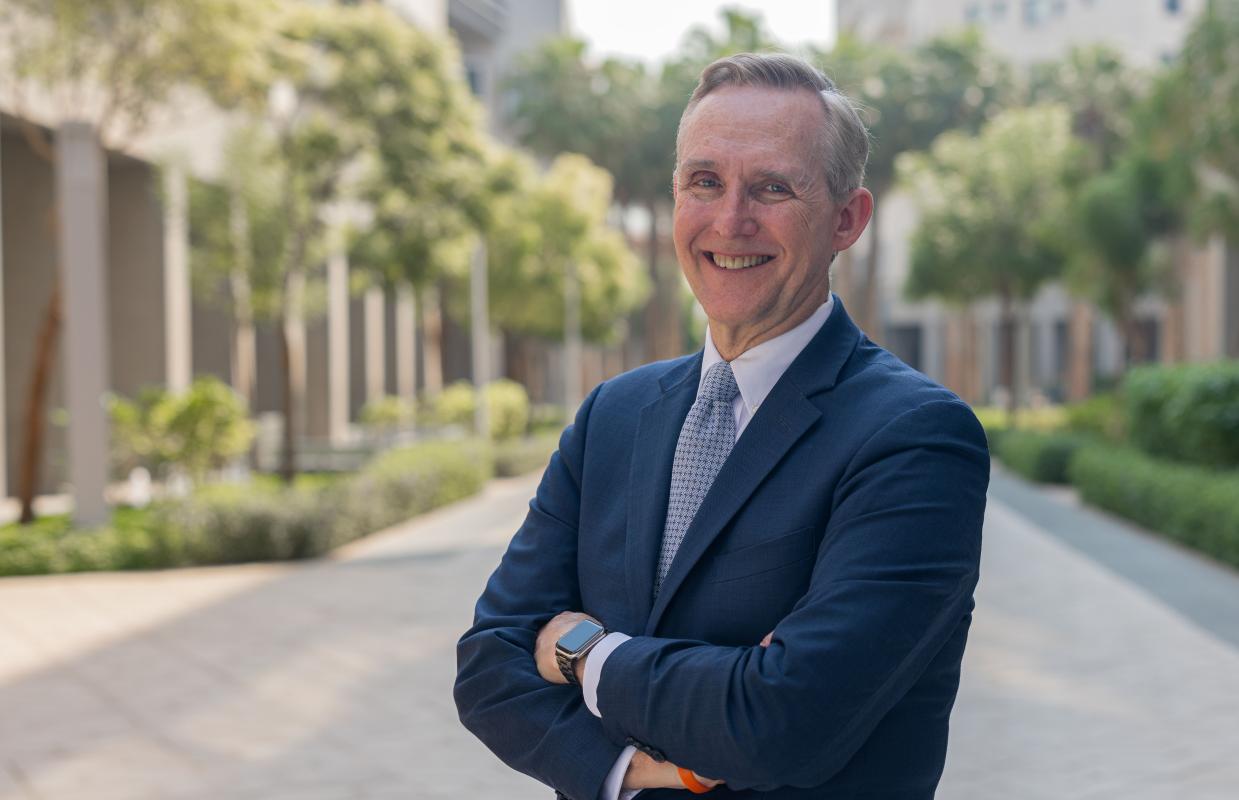 President Katie Conboy, Ph.D. has announced that Peter L. Christensen will join her leadership team on January 16, 2024 as Vice President for Strategy and Finance. Christensen comes to Saint Mary's from New York University's campus in Abu Dhabi (NYUAD) where he serves as Chief Administrative Business Officer & Associate Vice President for Strategic Initiatives.  
Christensen has worked for NYU since 2004. He started in the Finance Office as director of Financial Management and Strategic Assessment, and in 2008 he moved to work on the university's global strategy as they developed their first portal campus in Abu Dhabi. Christensen was responsible for planning all financial and business operations for NYUAD, developing the multi-year financial plan; creating the administrative roadmap; planning operations—including human resources, finance, and facilities—along with implementing global budget reporting, accounting, and HR systems. The NYUAD campus now has 2,200 students, 350 faculty, and 250 staff. 
"Peter Christensen's work for NYU across two decades gives him a wealth of knowledge that will serve Saint Mary's well," President Conboy said. "In establishing and serving a brand-new campus, he has implemented best practices for contemporary higher education. We look forward to welcoming him to the Midwest and securing his skills to further our mission." 
In his time at NYU, Christensen served in multiple roles as part of NYU's financial planning, real estate use, global strategy, and organizational effectiveness efforts, both at the New York campus and the Abu Dhabi campus. During his time in Abu Dhabi, Christensen has overseen a significant capital and operating budget and has initiated many process and culture improvements, including shared governance related to finance and operations, DEI accountability, hybrid work, and a one-stop service for all student-facing administrative services. Reporting jointly to NYU's Executive Vice President and the NYU Abu Dhabi Vice-Chancellor, he also formalized ties between the staffs of both campuses.
Prior to NYU, Christensen served as manager of Financial Support Services for Yale University. He began his career in public accounting. Christensen holds a BA in Economics and Accounting from Gonzaga University in Spokane, Washington and an MS in Computer Information Technology from Regis University in Denver, Colorado. 
November 10, 2023