Saint Mary's Welcomes New Coordinator of BAVO
May 28, 2019 (Notre Dame, Ind.) — Saint Mary's College is pleased to announce that Liz Coulston will join the College as the Coordinator of the Belles Against Violence Office (BAVO) on June 3.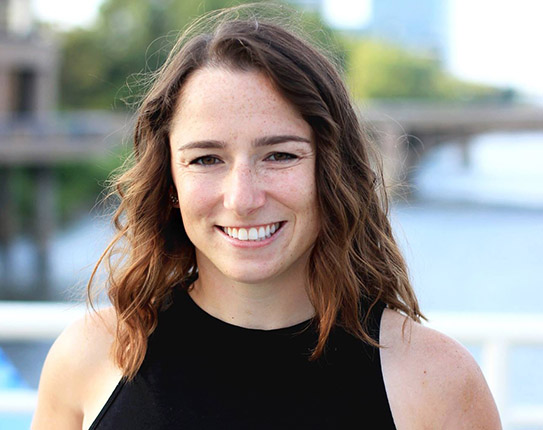 Coulston's previous experience at the YWCA of West Central Michigan and at the University of Texas School of Public Health has prepared her well to serve in this role. Leading BAVO, she will provide campus programming for students on sexual assault, intimate partner violence and stalking. She will also help to reinvigorate the President's Taskforce on Sexual Violence.
Interim President Nancy Nekvasil said she is excited to welcome Coulston to campus.
"I am also very pleased that we have found someone with significant experience serving women, as this position is important to fully support our students in all areas including issues of sexual violence," Nekvasil said.
Established in 2010, BAVO has expanded programs and protocols for survivors of violence over the past decade. BAVO was established by a grant the College received in 2009 from the Department of Justice's Office on Violence Against Women. When the three-year grant ended, the College devoted budget dollars to sustain the office because of its demonstrated value to students. In the spirit of the Sisters of the Holy Cross who founded Saint Mary's, the College is committed to responding to the needs of students as they change over the years. The College has launched initiatives to address violence against women prior to the current national climate that demands change on college campuses.
About Saint Mary's College: Celebrating over 175 years of empowering women to make a difference in the world, Saint Mary's College is recognized as a pioneer and continued force in the education of women. A Catholic, liberal arts institution in Notre Dame, Indiana, the College offers more than 50 undergraduate academic programs and also offers co-educational master's degrees.
Contact for News Media: Haleigh Ehmsen, Assistant Director of Integrated Communications, Saint Mary's College, hehmsen@saintmarys.edu (574) 284-5343