College Receives $1 Million Grant for First-Generation College Students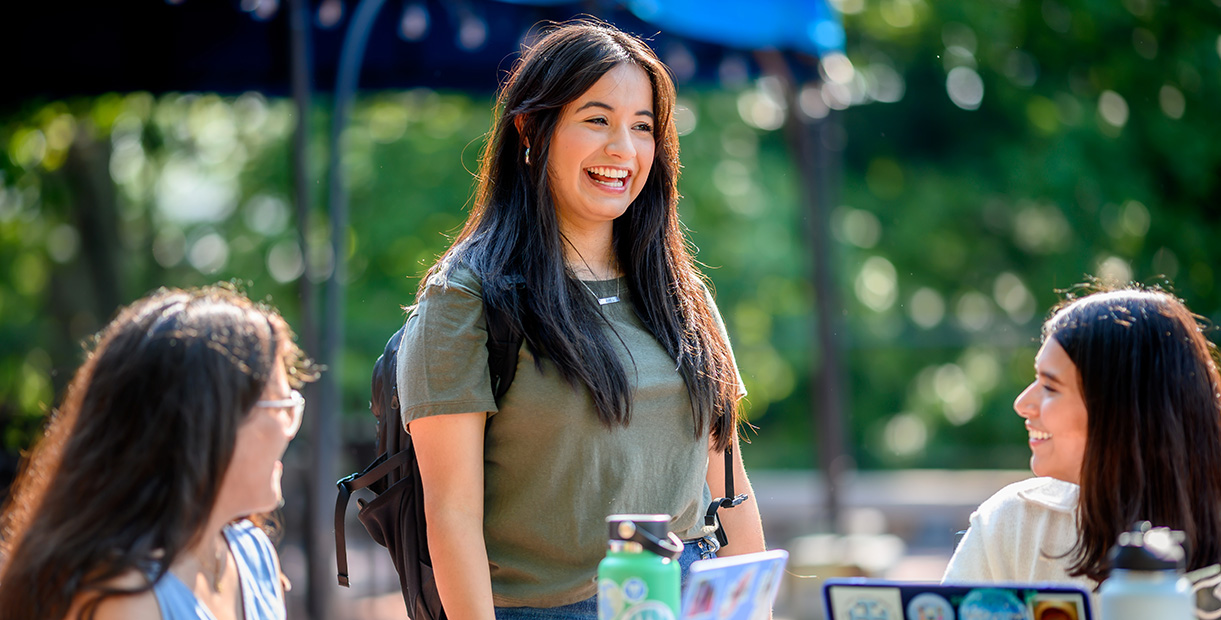 Saint Mary's will join 15 other institutions in bringing a comprehensive, cohort-based model for first-generation student success to campus
Saint Mary's College continues to close the gap and ensure first-generation student success by joining the Kessler Scholars Collaborative. With generous financial support from Bloomberg Philanthropies and the Judy and Fred Wilpon Family Foundation, Saint Mary's will receive a $1 million, five-year grant to establish the Kessler Scholars on campus. Selected as one of 10 American Talent Initiative members to receive this grant, Saint Mary's will join a diverse network of colleges and universities dedicated to supporting first-generation students through direct financial support and cohort-based services.
"Saint Mary's College serves a significant number of first-generation students, but in the wake of the pandemic, we have seen retention and graduation gaps widen between these students and their peers from families with college degrees," said Katie Conboy, president of Saint Mary's College. "This partnership with the Kessler Scholars Collaborative will continue to strengthen the programming we have underway through our strategic plan, Revere and Revise, and the Division for Inclusion and Equity."
As part of the Kessler Scholars Collaborative, Saint Mary's will receive onboarding guidance, curricular resources, and technical support to implement the Kessler Scholars model on campus. Additionally, Saint Mary's and partner institutions in the network will meet regularly to share resources, evaluate best practices, and participate in Collaborative-wide student engagement and networking opportunities. Saint Mary's joins the Collaborative alongside six current institutions: Cornell University, Johns Hopkins University, the University of Michigan, Queens College, St. Francis College, and Syracuse University; and nine new members: Bates College, Brown University, Centre College, Ohio State University, University of California, Riverside, University of Dayton, University of Pittsburgh, Washington University in St. Louis, and University of North Carolina-Chapel Hill.
"Our first-generation students are fully supported at Saint Mary's through a variety of intentional programming and support services," said Redgina Hill, vice president for Inclusion and Equity. "We are optimistic that this new partnership will allow us to provide even greater opportunities, and a larger cohort of first-generation students."
Founded in 2008 at the University of Michigan, the Kessler Scholars Program connects first-generation students with critical resources and opportunities across campus–including individualized support and cohort-based workshops and programming designed to foster academic, professional, and personal growth. Early results at Michigan indicate the promise of this model, with the Kessler Scholars graduating cohort attaining a four-year graduation rate of 83 percent—eight percentage points higher than their first-generation peers (75%) and virtually on par with their continuing-generation peers (84%).
Over the five-year grant period, July 2022 to June 2027, Saint Mary's will devote at least 40 percent of the total grant, or $400,000, to direct student aid. The first cohort of up to 20 Kessler Scholars will arrive on campus in Fall 2023.
For more information about the Kessler Scholars Collaborative, please visit www.kesslerscholars.org.