Saint Mary's College invites alumna Beth Mayer Castle '00 as Fall 2017 Shannon Scholar
November 20, 2017 (Notre Dame, Ind.) — Saint Mary's College welcomed back alumna Beth Mayer Castle '00 as the Fall 2017 Shannon Scholar. She was on campus November 6 and 7 participating in professionally-related classes and meeting with students, faculty and administrators, as well as prospective students and their families.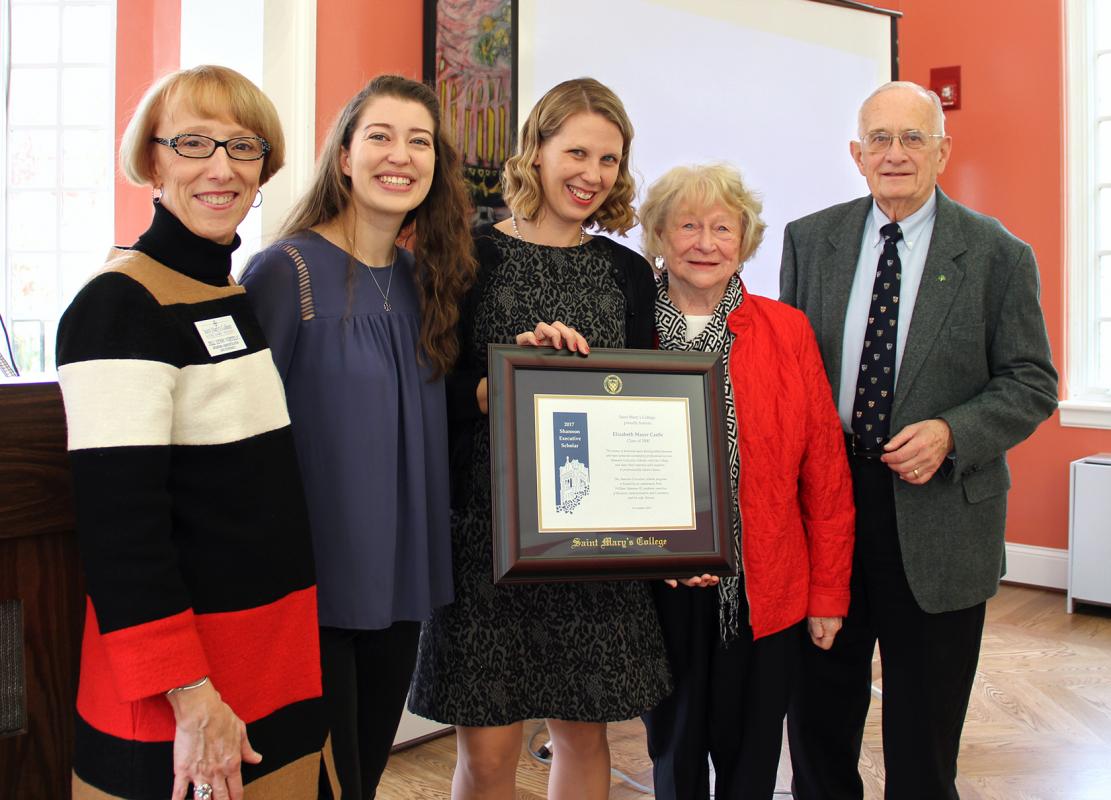 The Saint Mary's College Shannon Scholars Program, established in 1993 by a generous gift from Professor William N. Shannon and his wife Bonnie, is an annual program that invites successful alumnae back to the campus to share their experiences with students, faculty, staff, and the local community. The Shannon Scholars visit the College and share their expertise and career paths with students in professionally related classes, luncheons, and campus events.
Castle graduated magna cum laude from Saint Mary's in 2000 with Bachelor of Arts degree in Communication Studies and a minor in Business Administration. At Saint Mary's she was a Presidential Scholar.  After graduating from Saint Mary's, she received her Master's in Integrative Marketing Communications from Northwestern University in 2004.
Castle started her career with General Electric right after graduation. Throughout her career with GE, she has primarily worked in the Communications field. From 2006-2009, she was the Vice President of Communications where she managed a Marketing Communication team of up to 6 employees and led executive communications for CEO and organizational communications. Additionally, she managed customer communications. From there, she moved on to the Director of Events at GE Capital, Americas, a position that she has held for the past eight years.
Now Castle is the Program Manager of the Global Women's Network, a GE initiative that was developed to attract and retain female employees. According to GE's website, "this effort includes sharing the experience, best practices, and knowledge of successful women role models…Today, the rapidly growing Women's Network has evolved into a worldwide organization with more than 160 hubs in 60 countries that helps thousands of women around the world."
Patricia K. Doyle, Director of Corporate, Foundation, and Government Relations at Saint Mary's stated that Castle is a wonderful embodiment of what an alumna can do with a Saint Mary's education. 
"We were pleased to welcome her back to the campus as the Fall 2017 Shannon Scholar as she shared her career wisdom, her passion for her work, and her empowerment of women in that work". 
About Saint Mary's College: Founded in 1844 by the Sisters of the Holy Cross, Saint Mary's College is rooted in its mission to prepare women to make a difference in the world. A pioneer in the education of women, Saint Mary's is a four-year, Catholic, residential, liberal arts college in Notre Dame, Ind. The College is an academic community offering bachelor's degrees in more than 30 major areas of study, including business, nursing, education, biology, social work, and English. Saint Mary's also offers co-educational master's degrees in data science, speech language pathology, autism studies, and a Doctorate of Nursing Practice.
Contact for News Media: Haleigh Ehmsen, Media Relations Associate, Saint Mary's College, hehmsen@saintmarys.edu (574) 284-5343