Former Saint Mary's College President William Hickey dies at age 81
December 1, 2017 (Notre Dame, Ind.) — William A. Hickey, president of Saint Mary's College from 1986-1997, died on Tuesday, Nov. 28, in Sanibel, Florida. He was 81.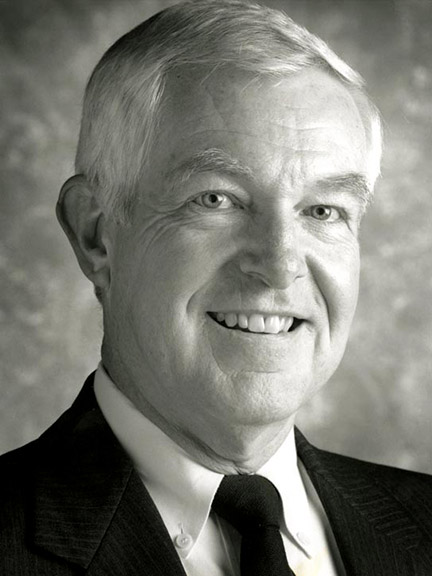 "Saint Mary's wouldn't be the strong institution it is today without the leadership of Dr. Hickey," President Jan Cervelli said. "He helped strengthen ties with the Sisters of the Holy Cross, reaffirming the College's founding mission, and extended it to new generations of students through increases in financial aid and a commitment to ensuring the highest academic standards."
A native of Pennsylvania, Hickey received a master's degree and PhD from the University of Notre Dame. A biology professor and nationally recognized insect geneticist, Hickey spent nearly 40 years at Saint Mary's. He also served as academic vice president and dean of faculty before becoming president.
Hickey led major changes to the governance of the College, placing all decision making within a single Board of Trustees. During his tenure, Saint Mary's instituted the Division of Mission and Center for Spirituality. He increased the endowment from $20 million to $75 million, established merit scholarships in addition to need-based aid, and worked to recruit more minority students. Hickey also bolstered research and professional development grant program funds to help attract and retain high-quality faculty.
Hickey is survived by his wife Barbara, and children William Jr., Timothy, Sandra (SMC '89) and Kristina. He was preceded in death by his daughter, Susan.
A memorial service for Hickey will be held at the Church of Our Lady of Loretto in the spring.
Saint Mary's invites members of the campus community and those whose lives were influenced by Hickey to share their remembrances here.
About Saint Mary's College: Saint Mary's College, Notre Dame, Ind., is a four-year, Catholic, residential, women's liberal arts college offering five bachelor's degrees and more than 30 major areas of study, such as business, nursing, art, chemistry, and social work. Saint Mary's College also offers two graduate degrees: a Master of Science and a Doctorate. All programs that fall under these degrees are co-educational and include a Master of Science in Data Science, a Master of Science in Speech Language Pathology, and a Doctorate of Nursing Practice. Founded in 1844 by the Sisters of the Holy Cross, Saint Mary's College seeks, according to its mission statement, to educate students, develop their talents, and prepare them to make a difference in the world. Follow Saint Mary's College on Twitter @saintmarys and @saintmarysnews.
Contact Info:
Haleigh Ehmsen, Media Relations Associate
Saint Mary's College
hehmsen@saintmarys.edu  |  (574) 284-5343