Free Professional Clothing Available to Students
South Bend-based Dress for Success Michiana has partnered with Saint Mary's to open a boutique on campus for Michiana women. Dress for Success provides free, professional clothing, shoes, coats, handbags, and more to all women in Michiana, including students, faculty, and staff from Saint Mary's and the tri-campus community.
On Tuesday, November 30, the non-profit hosted an open house to raise awareness of the boutique. Founder and Executive Director Sherry Klein livestreamed throughout the day, while students and employees visited the boutique to learn more.
Launched in 2018, Dress for Success Michiana previously operated a mobile boutique, setting up on location at various places throughout the community. Klein said that worked for a while, but understood that in order to be truly accessible, she needed a permanent home. A chance meeting with Stacie Jeffirs, director of Saint Mary's Career Crossings Office, was fortuitous. 
"In early 2019, I met Sherry at a local focus group," Jeffirs said. "Our conversation led to learning that she was looking to expand and seeking physical space for a boutique for Dress for Success. I knew then that we needed to form a partnership in some way because we could be of mutual benefit to each other."
Specifically, Jeffirs understood that Dress for Success Michiana easily aligned with the mission at Saint Mary's to provide equitable opportunities for students. "There had already been some interest in launching a professional clothing closet on campus," she said. "This allows all students to have access to the attire they need to be successful in landing and maintaining professional opportunities such as internships and jobs."
Klein estimates that 34 percent of her clients are entering the workforce for the first time, and 31 percent are job searching and have never owned a suit. 
In addition to professional suiting services, Dress for Success Michiana also offers programming and workshops that are open to all students and women of the community. Dress for Success Michiana is an affiliate of Dress for Success Worldwide, a global employment resource on the frontlines of preserving the fight for women's equality and economic progress. The organization created the "PowerPiece" campaign to raise broad awareness.
"A power piece is anything you use to inspire confidence in yourself throughout your day, a reminder so to speak, of the amazingly talented professional that you are. It can be anything that reminds you 'You got this,' Klein said.
Michiana women can access the boutique by making an appointment with Klein. Students from the tri-campus have the added convenience of drop-in hours. Once there, all customers can shop for as many pieces as they want. Options range from suits, blouses and dresses, to shoes, bags, and other accessories, even bras and stockings. All items are donated, and free to the shopper.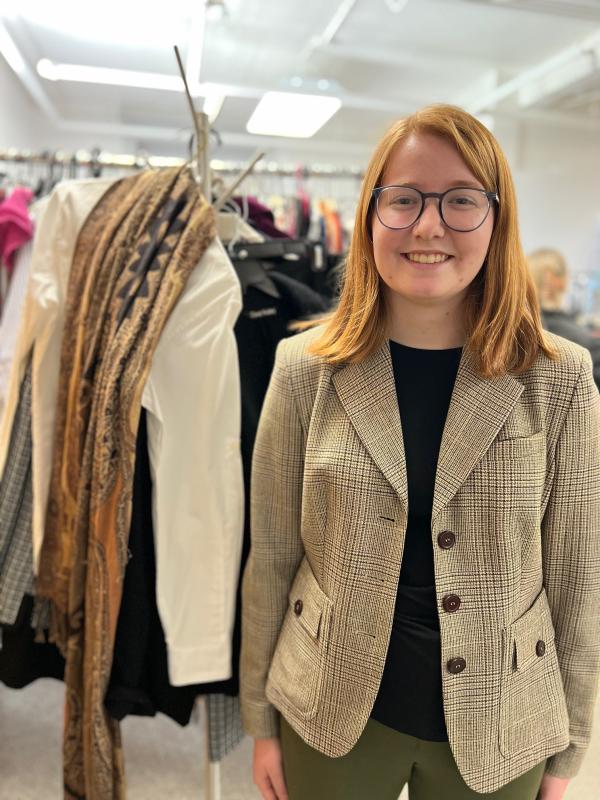 Education major Maureen Tessmer '24 works at the boutique four days a week. She helps students select clothing, and loves the interactions. She also helps Klein sort through donations to ensure the boutique has a good blend of modern professional pieces. 
"This has been a great place to work," Tessmer said. "Helping students choose their professional wardrobe is fun, and it's so important. To have access to a service like this—right on campus—is a great benefit for everyone."
Jeffirs sees the same benefit. "No matter the student's socioeconomic status, they are able to receive professional clothing that will help them advance and confidently go out into the world to make a difference in their chosen profession," she said. 
To schedule an appointment, visit http://bit.ly/dfsmsuitme. Drop in hours are Monday, Wednesday, and Friday from 11:30 a.m. to 1:30 p.m., and on Sundays from 8:45 to 10:45 a.m. The Dress for Success Michiana boutique is located in Holy Cross Hall, Room 50.