Jenkins Appointed Interim Vice President for Student Affairs
Saint Mary's College President Jan Cervelli has appointed Gloria Jenkins as interim Vice President for Student Affairs, effective October 1. Jenkins will provide executive leadership and vision on a comprehensive range of services, policies and procedures related to student affairs programming and planning. The position reports to the President and serves as a member of the President's cabinet.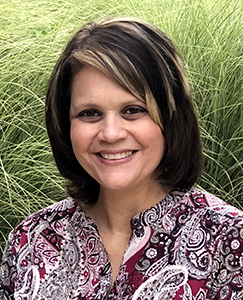 "Gloria's expertise will further advance our efforts to develop and implement high-quality, student-centered approaches to support success in the non-academic dimensions of the Saint Mary's experience, which are so essential to our holistic approach to education," President Cervelli said. "I am extremely grateful to Gloria for taking on the interim role as we conduct a national search for a new Vice President for Student Affairs."
Jenkins currently serves as director of multicultural services and student involvement at Saint Mary's, managing an array of programs and services that contribute to a welcoming, nurturing and inclusive learning environment.
Jenkins also has served as interim Assistant Vice Chancellor/Dean of Students at Purdue University Northwest and as Teaching Learning and Student Development project coordinator at Eglin Community College. Jenkins earned a Bachelor of Arts in Communication and a Master of Arts in Communication from Purdue University Northwest. Jenkins is also pursuing a Doctor of Education in Higher Education and Organizational Change at Benedictine University.
Later this fall, Saint Mary's will establish a search committee to help guide the process to find a new Vice President for Student Affairs. Karen Johnson, who served in this role since 2006, recently announced that she would be retiring from the College in early October.
About Saint Mary's College: Celebrating over 175 years of empowering women to make a difference in the world, Saint Mary's College is recognized as a pioneer and continued force in the education of women. A Catholic, liberal arts institution in Notre Dame, Indiana, the College offers more than 50 undergraduate academic programs and also offers co-educational master's degrees.