Leadership Through COVID-19
Student Volunteers Courageously Face COVID-19 in Campus Care Center
By Haleigh Ehmsen '16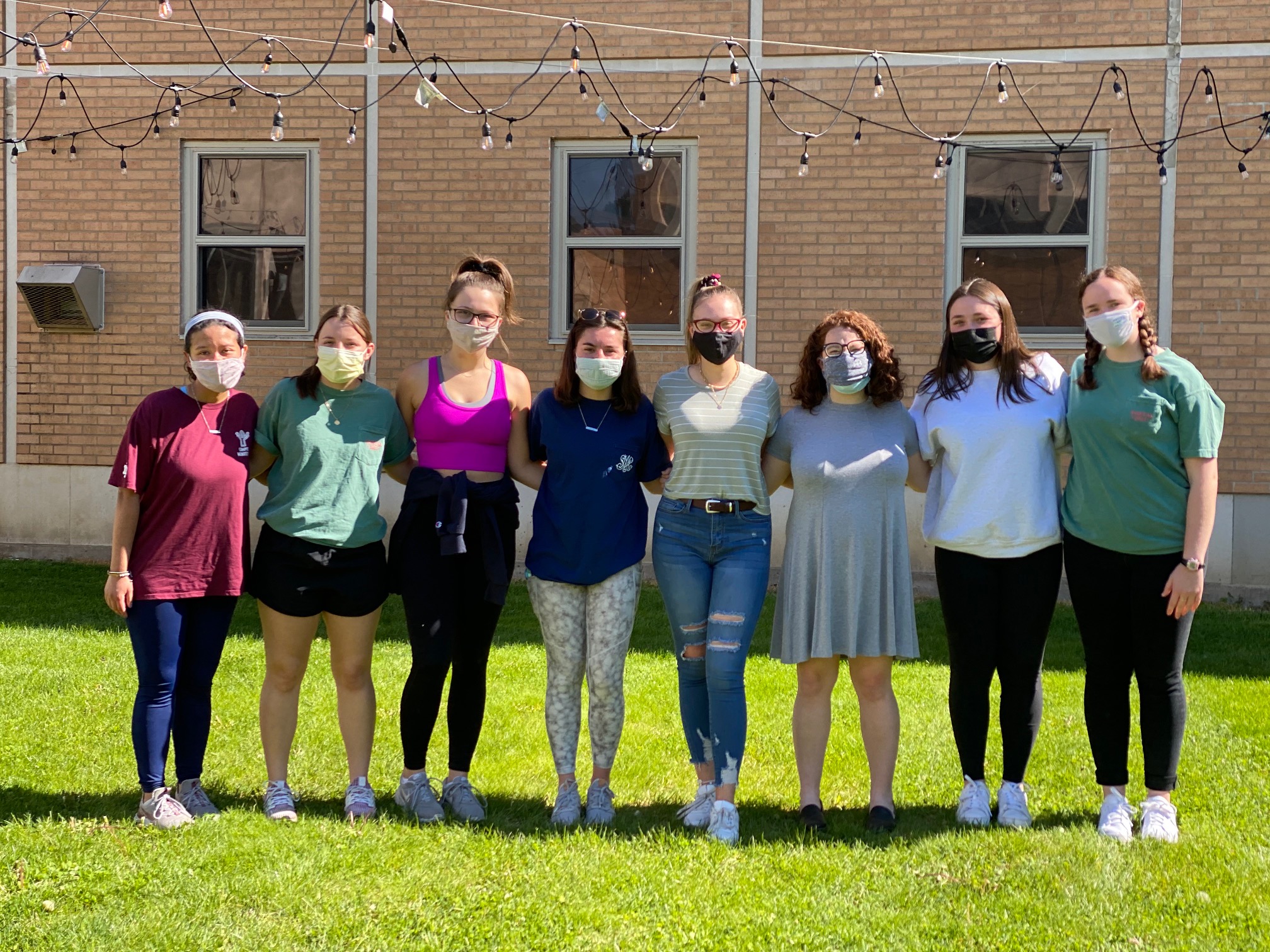 Eight of the 14 Mother Angela Care Center student workers pose at a recent ceremony to honor their heroic efforts.
When students returned to campus at the beginning of August, the College needed a place for individuals to isolate and be cared for during the coronavirus pandemic. That's when leadership from Campus Ministry, Student Affairs, College Relations, and Athletics came together to set up the Mother Angela Care Center (MACC). Under the guidance of these leaders, MACC has operated in part thanks to 14 student workers who have bravely volunteered to serve students who were exposed to the virus—or recovering from it.
Judy Fean, who recently retired as the vice president for Mission, has helped co-direct the Mother Angela Care Center with Kara O'Leary '89, executive director of Alumnae and College Relations; Julie Schroeder-Biek '88, director of Athletics; and Liz Palmer '13, assistant director of Campus Ministry. 
Named after the College's first president, Mother Angela Gillespie, Fean said the MACC is located in Regina South, and offers care and compassion for students who have to quarantine due to COVID-19 illness or exposure. 
"It only seemed appropriate honoring the spirit of Mother Angela as she responded to caring for the wounded and suffering soldiers during the Civil War," Fean said. "Here we were in 2020 during a pandemic, wanting to continue to educate women, and not wanting to put the community at risk."
What is remarkable to Fean, however, is the degree to which fellow students have embraced the cause, and have been willing to assist in the care of those who are ill, despite any potential risk. Many of them spent time in Mother Angela Care Center themselves, experiencing firsthand what it was like to be in isolation. Palmer said they were inspired to give back. Last week, Fean, O'Leary, and Palmer honored the student workers at a special ceremony on campus.
Emily Shetterly '24, a first-year student majoring in business administration and art, is one of the student workers. She said she has been in MACC twice. 
Although Shetterly never contracted COVID-19, she had to quarantine while waiting for test results after a roommate tested positive. She says waiting for the results can be a very isolating experience, and knowing the difficulty with that from her own experience, she wanted to do what she could to provide comfort to her peers. 
During their two-hour shifts, student workers might deliver meals to the students in Mother Angela, welcome new students and give them a tour, or restock the fridge with drinks and snacks. Duties depend on the day and the need. Beyond work tasks, student workers put thought into writing notes and packaging goodie bags to give to students who arrive.
For Molly Soper '22, working at Mother Angela is a glimpse into her vocation. As a junior religious studies major, Soper is passionate about connecting to and caring for others. She aspires to work as a chaplain in a nursing home and currently works at Holy Cross Village, serving the Sisters of the Holy Cross.
In her role at MACC, Molly delivers meals to students, which she uses as a time to also check in with her peers. "It's been really cool to connect with (other) students. I heard from students that they were so lonely and it was nice to be able to be there for people in those moments because being in isolation can be hard."
Palmer said the center is a symbol of the College's commitment to the holistic care of students—body, mind and spirit. 
Rooted in the College's core value of community, Fean noted that, like Mother Angela, who is considered a pioneer in caring for the soldiers during the Civil War, the MAAC student workers have stepped out in faith and embraced those who have been sick during this time in our history. They have put their schedules and potential health aside to help members of the community in a time of dire need.
In late April—the first time since the beginning of the academic year—there were no students staying in MACC. As the semester draws to a close, the need for quarantine and isolation  space continues to fade as more students become vaccinated. Palmer reflects on the student workers and their place in Saint Mary's history. 
"(Through their work), we've seen the beauty of what it looks like to have a community rooted in mission and faith working together."