In Memoriam – Professor H. James (Jim) Paradis
January 16, 2018 (Notre Dame, Ind.) — H. James (Jim) Paradis, artist and longtime professor at Saint Mary's, died on December 21, 2017 at the age of 93.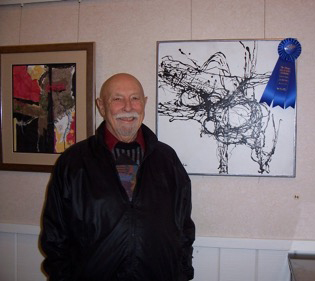 Professor Paradis' teaching career at Saint Mary's spanned nearly 30 years. He served as chair of the Department of Art for 15 years, where he provided instruction primarily in ceramics and sculpture. During his tenure at Saint Mary's, he also participated in six of the College's summer semester abroad programs and spent one year in Italy as part of the initial Notre Dame and Saint Mary's sophomore year in Rome.
While teaching, Paradis created and exhibited his own art, primarily ceramics and abstract expressionist paintings. He retired, professor emeritus, in the early 1990s.  
In 1995, Paradis and his wife, Adine Paradis '70, moved to San Jose, California where he continued to produce work across a multitude of media, generating abstract paintings, bronze and clay sculpture, and mixed media collage. In the past 20 years, he received numerous awards from various art associations in California, including the Triton Art Museum in Santa Clara. He was acknowledged by the Indiana art community when covered in Fine Arts of the South Bend Region, Wolfson Press, 2014.
Paradis passed away only six weeks after a November retrospective of his work, titled "Alternative Directions: The Art of H. James Paradis." He was overjoyed to reconnect with the almost 350 friends and family who attended the exhibit.
He leaves behind his wife of 56 years, Adine; six children: Erique Paradis (Lori), Jacquie Giles (Steven), Michelle Jedych, Sheldon Friedman (Cherryl), Stephen Friedman (Brenda), and Susan Friedman '74; and seven grandchildren. A funeral mass will be held on January 19, 2018, at St. Francis of Assisi Church in San Jose, California.
About Saint Mary's College: Celebrating 175 years of empowering women to make a difference in the world, Saint Mary's College is recognized as a pioneer in the education of women. A Catholic, liberal arts institution in Notre Dame, Indiana, the College offers more than 50 academic programs and also offers co-educational master's degrees in data science, speech language pathology, autism studies, and a Doctorate of Nursing Practice.
Contact for News Media: Haleigh Ehmsen, Assistant Director of Integrated Communications, Saint Mary's College, hehmsen@saintmarys.edu (574) 284-5343