Saint Mary's College to host United States Poet Laureate Tracy K. Smith
July 16, 2018 (Notre Dame, Ind.) — The Saint Mary's College Department of Humanistic Studies is proud to announce that Tracy K. Smith, the 22nd United States Poet Laureate, will be delivering this year's Christian Culture Lecture. "An Evening with Tracy K. Smith" will be presented on Wednesday, September 5 at 7:30 p.m. in O'Laughlin Auditorium. Tickets go on sale Monday, July 30.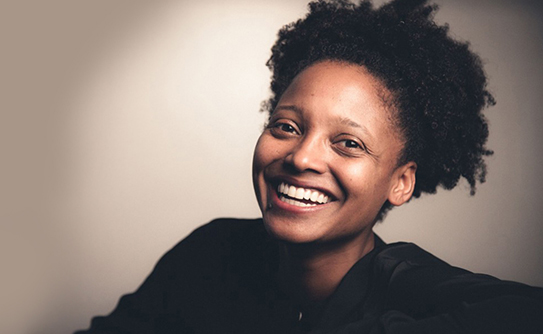 In 2017, Tracy K. Smith was appointed the 22nd United States Poet Laureate and carries the responsibility of promoting poetry and literature at a tumultuous time in our country. Smith writes about the civil rights era in comparison to now, as she captures in her poems of her recent collection Wade in the Water. Her collection, Life on Mars, won the 2012 Pulitzer Prize and was selected as a New York Times Notable Book. In 2014, the Academy of American Poets awarded Smith with the Academy Fellowship, which is awarded to one poet each year to recognize distinguished poetic achievement. Smith's 2015 memoir Ordinary Light was a finalist for the 2015 National Book Award for Nonfiction.
Smith is in her second term as poet laureate and is also the Director of the Creative Writing Program at Princeton University as well as the Roger S. Berlind '52 Professor in the Humanities.
Laura Williamson Ambrose, chair of the department of humanistic studies, said Saint Mary's is honored to host Tracy K. Smith on campus to meet with Saint Mary's students and local high school students nominated by their teachers, as well as present a lecture to the community.
"Tracy K. Smith's poetry is lithe and bright, accessible and powerful, upfront and imaginative. She reminds us in her published work and in her highly engaged role as poet laureate that poetry and language matter deeply to our everyday lives — in how we make meaning of our memories, process our current realities, and imagine a place for ourselves in the future. We are thrilled to have her here at Saint Mary's, spreading what she calls the 'good news of poetry' to our entire Michiana community," Williamson Ambrose said.
This year's Christian Culture Lecture honors the late Francis A. McAnaney (ND '29), Saint Mary's College Board of Trustees member from 1963-69, and is made possible by the generosity of his daughter Kathleen McAnaney Campbell '65.
Ticketing information is available here.
About Saint Mary's College: Celebrating over 175 years of empowering women to make a difference in the world, Saint Mary's College is recognized as a pioneer and continued force in the education of women. A Catholic, liberal arts institution in Notre Dame, Indiana, the College offers more than 50 undergraduate academic programs and also offers co-educational master's degrees.
Contact for News Media: Haleigh Ehmsen, Assistant Director of Integrated Communications, Saint Mary's College, hehmsen@saintmarys.edu (574) 284-5343
Written by Eliz Kochniarczyk '19, media relations intern and communication studies major with a minor in public relations/advertising.