Interim President Nekvasil Awards President's Medal
May 23, 2019 (Notre Dame, Ind.) — Saint Mary's College Interim President Nancy Nekvasil honored Sister Kathleen Reilly '65, CSC, member of the Board of Trustees, with the President's Medal at the College's 172nd Commencement. The President's Medal is presented rarely and exclusively to those who have offered exceptional contributions to the life of the College and society.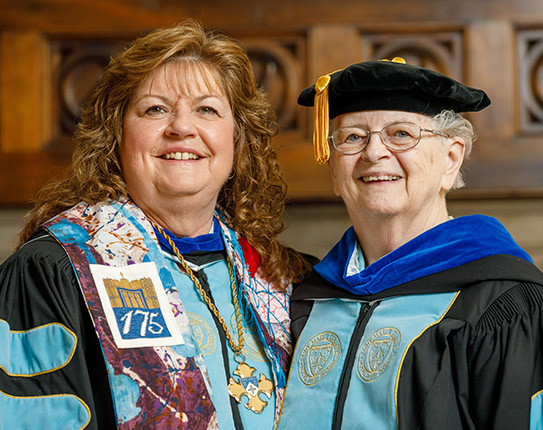 Sister Kathleen Reilly received her bachelor's degree in economics and business from Saint Mary's and after graduating, she began her career teaching accounting and working in finance. She found her true calling in healthcare ministry, and she served as Director of the Secretariat for Pastoral and Community Services for the Archdiocese of Los Angeles. She also spent many years working at the Vice President for Mission at hospitals in Indiana.
Reilly is the longest serving member of the College's Board of Trustees. She served for 10 years on the College's Board of Regents and just completed her 24th year on the Board of Trustees. According to the citation, six presidents have benefited from her leadership especially in the areas of budget and investment. Her wise counsel led the College into modern investment strategies and played a vital role in growing the College's endowment pool.
Interim President Nancy Nekvasil said she was pleased to honor Sister Kathleen with the medal. "It is with tremendous respect and admiration that I awarded the President's Medal to Sister Kathleen Reilly," Nekvasil said. "In my short time on the Board, I have quickly realized Sister Kathleen's wisdom through thoughtful dialogue and I can see her impact in the College's financial strength. The award could not go to a more deserving individual."
About Saint Mary's College: Celebrating over 175 years of empowering women to make a difference in the world, Saint Mary's College is recognized as a pioneer and continued force in the education of women. A Catholic, liberal arts institution in Notre Dame, Indiana, the College offers more than 50 undergraduate academic programs and also offers co-educational master's degrees.
Contact for News Media: Haleigh Ehmsen, Assistant Director of Integrated Communications, Saint Mary's College, hehmsen@saintmarys.edu (574) 284-5343