Rev. Daniel P. Horan, OFM, Joins Saint Mary's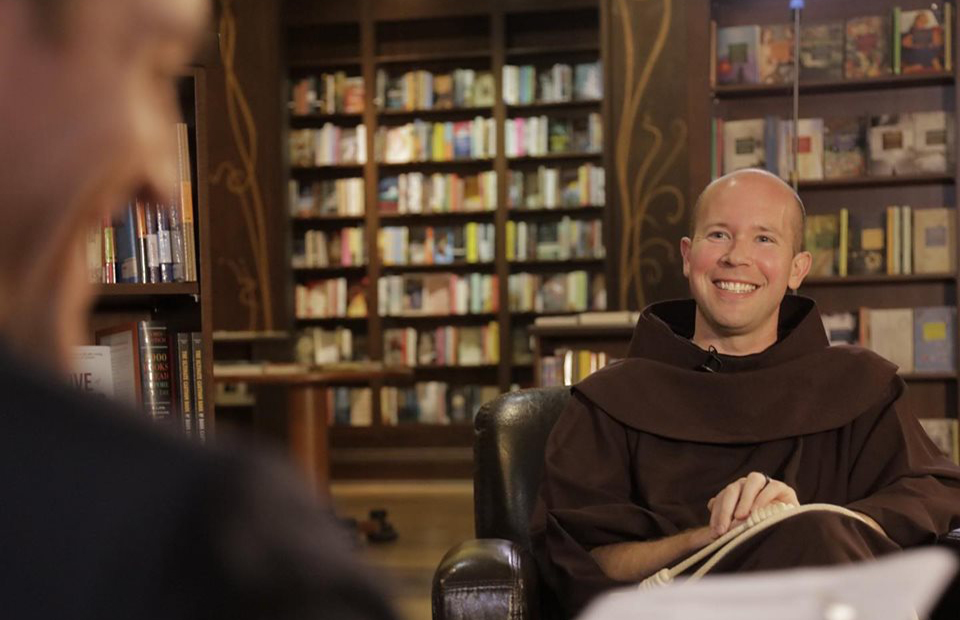 Father Daniel Appointed Director of Center for Spirituality
Rev. Daniel P. Horan, OFM, has been named Director of the Center for Spirituality and professor of religious studies and theology and philosophy at Saint Mary's. Father Daniel's appointment will take effect August 16.  
A prolific author, columnist, podcaster, and lecturer, Father Daniel is a Franciscan friar and Roman Catholic priest. Most recently, he served as the Duns Scotus Chair of Spirituality at Catholic Theological Union in Chicago. He is a columnist for National Catholic Reporter, and the author of 14 books including the award-winning Catholicity and Emerging Personhood: A Contemporary Theological Anthropology (2019) and The Franciscan Heart of Thomas Merton: A New Look at the Spiritual Influence on his Life, Thought, and Writing (2014).
His most recent book, A White Catholic's Guide to Racism and Privilege, will be released in September 2021. In the book, Father Daniel shares what he has learned about unmasking and combating racial inequity in our nation and in our Church. Since 2017, he has co-hosted the podcast, The Francis Effect, exploring politics and current events through the lens of Catholic teaching and spirituality.
"I am delighted that Father Dan is joining the community at Saint Mary's College. He is a leading light in theology and spirituality," said Molly Gower, Ph.D., interim vice president for Mission. "He has established himself as a teacher, lecturer, writer, faith leader, and public intellectual with generative work that illuminates and edifies as it pursues that which is true and good. Even talking about divine mystery, Father Dan takes care to communicate in ways that are clear and accessible. Saint Mary's College has a special place in the history of women in religion. I look forward to collaborating with Father Dan, the College community, and the Sisters to honor that history and continue that work."
Founded in 1984, the Center for Spirituality was the first center of its kind established in the United States. Created to support, advance, and uplift women in the church, theology and in society, the center provides opportunities for academic study and community resources in the practice of spirituality.
"I am honored and thrilled to be joining the Saint Mary's community at this exciting time in the College's history," Father Daniel said. 
"The Center for Spirituality is blessed with a tremendous legacy and has played a leading role over the years in promoting the academic study of spirituality while building on Saint Mary's important mission of centering and supporting the work of women in theology," he added "I look forward to contributing to this significant work in the years to come."
Father Daniel regularly lectures throughout the United States and abroad; serves on a number of university, academic, and publication editorial boards, including the St. Bonaventure University Board of Trustee and the Franciscan School of Theology at the University of San Diego Board of Regents. He previously served several terms on the board of directors of the International Thomas Merton Society.
He studied theology and journalism at St. Bonaventure University,  and earned a master of arts in systematic theology and master of divinity at the Washington Theological Union. He earned a doctorate of philosophy degree in systematic theology from Boston College. 
He is also the author of numerous popular and scholarly articles; is a frequent lecturer and retreat director; and has previously taught at Durham University, Catholic Theological Union, Siena College, St. Bonaventure University, and in the School of Theology and Ministry of Boston College. Father Daniel previously served as the Catholic Chaplain at Babson College in Wellesley, Massachusetts, as co-editor of the academic journal New Theology Review, and was a columnist for America magazine. In addition to several other recognitions, including numerous awards for his publications, he was awarded an honorary doctorate by Felician University (New Jersey) in 2015.