Saint Mary's College to hold 171st Commencement Ceremony
May 16, 2018 (Notre Dame, Ind.) — Saint Mary's College is proud to announce details of the 171st Commencement, which will take place at noon on Saturday, May 19 at the Angela Athletic & Wellness Complex. Nearly 350 students will graduate from the College with undergraduate degrees. This is the second Commencement for the College's graduate programs in data science and speech pathology, and 33 graduate students will receive their master's degrees. One student will receive her doctor of nursing practice degree.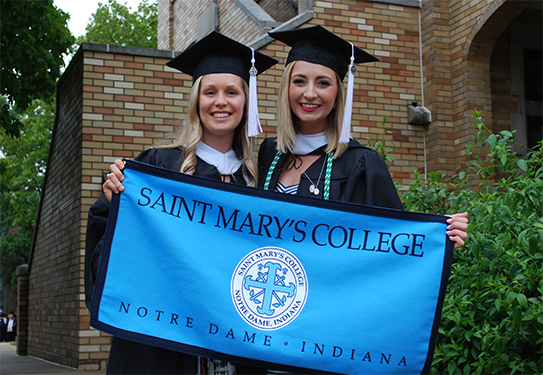 For the first time in College history there are five valedictorians in the Class of 2018: Darya Bondarenko '18 of Vyshgorod, Ukraine, a molecular biology major with minors in chemistry and studio art; Makenzie Duncan '18 of LaSalle, Michigan, an integrative biology major with a minor in chemistry; Melissa Henry '18 of Ada, Michigan, a double major in communicative sciences and disorders and psychology; Kristie LeBeau '18 of Wolcott, Indiana, a sociology major with minors in gender and women studies and education schooling and society at Notre Dame; Kathleen Price '18 of South Bend, Indiana, an elementary education major with a minor in English as a second language. 
Carolyn Woo, the former CEO of Catholic Relief Services, will deliver the Commencement address to the Class of 2018. Born and raised in Hong Kong, Woo was educated by the Maryknoll Sisters of Ossining, and immigrated to the US to attend Purdue University, where she earned a bachelor's degree in economics with highest distinction and honors, a master of science in industrial administration with recognition as Krannert Scholar, and her doctoral degree. For 14 years, Woo served as Martin J. Gillen Dean of the University of Notre Dame's Mendoza College of Business. Most recently, Woo served as CEO of Catholic Relief Services. Woo will receive an honorary degree. Acclaimed peace activist Sister Margaret "Peggy" O'Neill, SC will also receive an honorary doctor of humanities degree. 
A livestream feed will also be available here. 
Find more information on Commencement here.
About Saint Mary's College: Founded in 1844 by the Sisters of the Holy Cross, Saint Mary's College is rooted in its mission to prepare women to make a difference in the world. A pioneer in the education of women, Saint Mary's is a four-year, Catholic, residential, liberal arts college in Notre Dame, Ind. The College is an academic community offering bachelor's degrees in more than 30 major areas of study, including business, nursing, education, biology, social work, and English. Saint Mary's also offers co-educational master's degrees in data science, speech language pathology, autism studies, and a Doctorate of Nursing Practice.