Saint Mary's College Hosts Team USA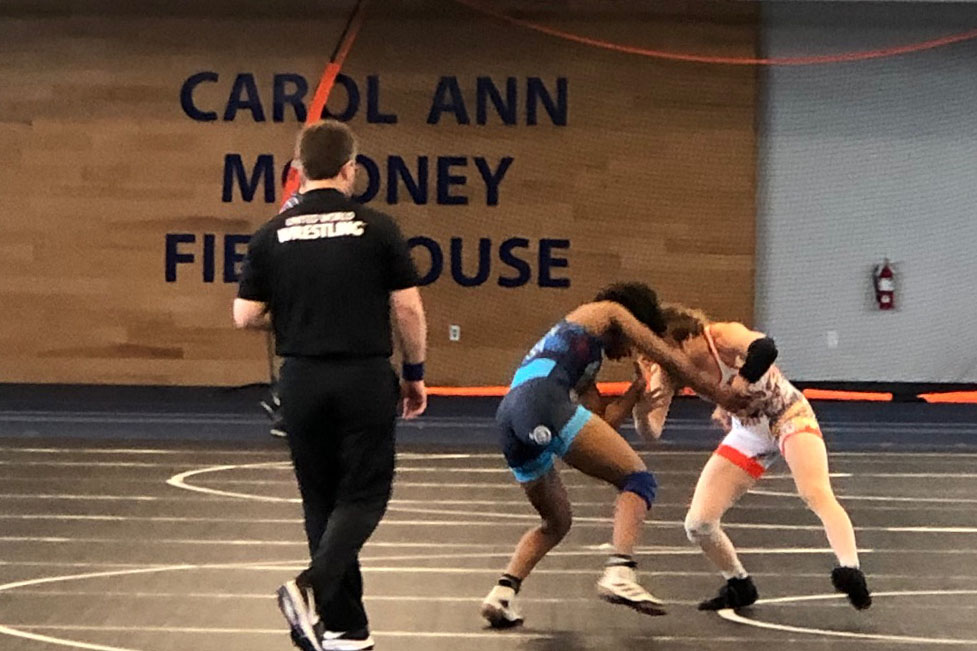 The United States Olympic Women's Wrestling team arrived on campus this week, along with members of the US National Team, the U23 national wrestling team, coaches, trainers, and hundreds of invitation-only fans. The teams are here to conduct their final training camp at Angela Athletic & Wellness Complex prior to departing for the Summer Olympic Games in Tokyo.
Athletes and staff arrived Sunday, June 27, and will depart Wednesday, July 7.
The 10-day camp brings four of the six Olympians on the women's team, including Sarah Hildebrandt, a Granger, Ind., native, who will participate in the 50kg weight class at the games.
A coordinated effort across campus helped facilitate bringing the Olympic Wrestling team camp to Saint Mary's. Campus and Community Events negotiated to bring this opportunity to the College, and worked with the staff of Angela to ensure the athletes had access to weight training and other equipment. Saint Mary's Campus Dining designed a special diet in collaboration with the USA Wrestling nutritionist, and a dedicated event's team worked to provide additional accommodations, on-site full-time assistance, and special touches such as lockers with the Olympians names.
To prepare Team USA for Tokyo, the camp at Saint Mary's included a simulated competition. The "full speed" tournament began June 29 with three rounds in six weight classes. The "gold medal" match took place June 30. The competition included the official walk to the mat with rock music roaring overhead, fans cheering on the athletes, and even a post-match media conference. 
"A camp of this kind is so important for the athletes. We are walking them through exactly what it will be like in Tokyo," said Chris Hildebrandt, coordinator of the camp and father to Olympian Sarah Hildebrandt. "The facilities here—the entire setup—have been an incredible experience for the athletes. They will leave for the Games well-prepared."
Chris Hildebrandt said the USA Wrestling team looked at venues in a number of cities, including Atlanta, Georgia, and State College, Pennsylvania, but Saint Mary's was able to accommodate the team in the style of the US Olympic Training Center in Colorado Springs. 
"Because of COVID restrictions, athletes weren't able to compete at the official training facility before they left for Tokyo. USA Wrestling had to find another venue to bring the women together to prepare. We are so lucky to have them here, and prepare them for the games."
USA Wrestling is the National Governing Body for the Sport of Wrestling in the United States and, as such, is its representative to the United States Olympic & Paralympic Committee. 
To learn more about the United States Women's Olympic Wrestling team, click here.