Saint Mary's Faculty Selected as Artist of Distinction
Professor Ian Weaver's Florae on display through November 9
Ian Weaver, an artist and associate professor at Saint Mary's has been selected as a 2023 DeHaan Artist of Distinction, administered through the Indy Arts Council.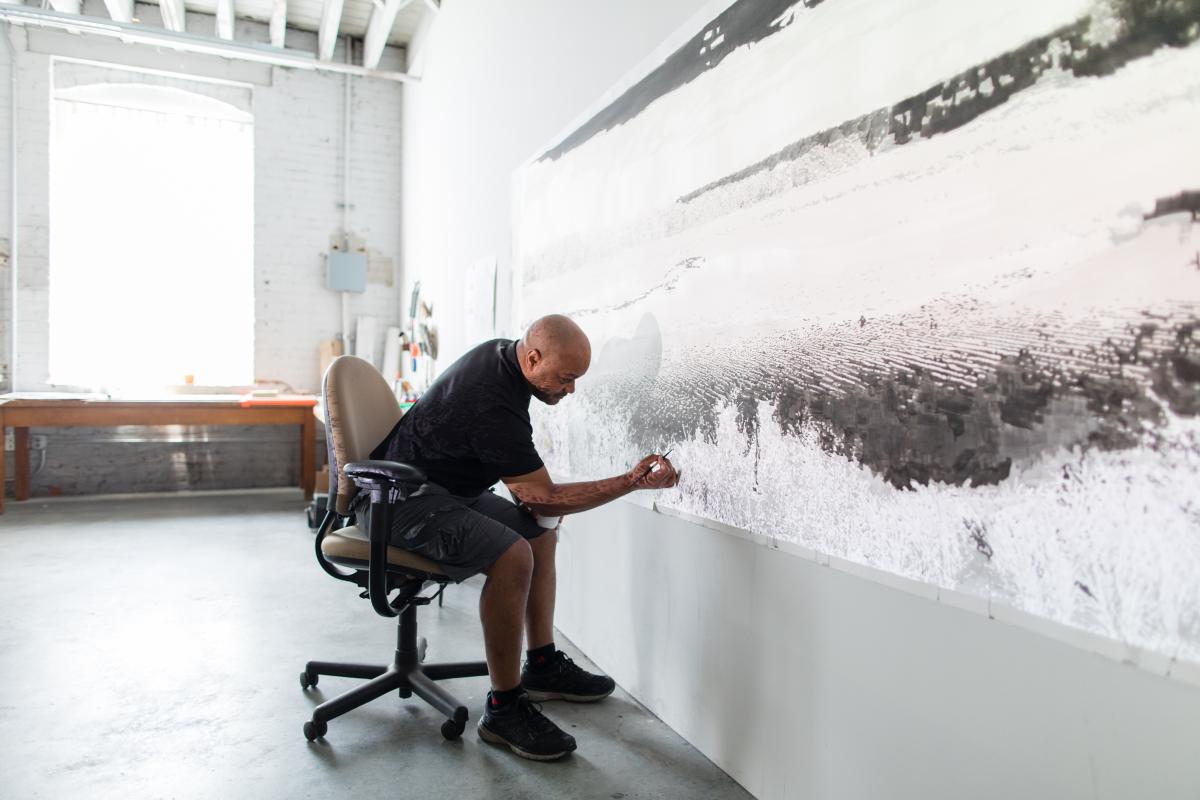 The DeHaan Artists of Distinction exhibit showcases the work of Indiana contemporary artists who pushed their creative practice in new ways. This year's exhibition explores themes of nature, medicine, history, justice, identity, and the environment. Weaver's work for the show is titled Florae.
In reference to Christina Sharpe's writings in In the Wake: On Blackness and Being on representations of Black life, Weaver considers multiple understandings of "wake" – the temporary and ephemeral part behind a boat, a social ritual associated with funerals and a celebration of the dead, and the idea of awakening or becoming conscious. Objects that repeat throughout his practice not only reference maritime culture (ship hulls, maps, lighthouses) and Commemorations (wreaths), but more broadly the nature of History and Place. "Florae is one such symbolic representation," Weaver writes in his artist's statement. "As an abstract image of a floral wreath, it connects with the themes of Commemoration. It is also reminiscent of flora in its shape and movement, and thus references bodies of water important in this work."
From October 6 to  November 9, the DeHaan Artists of Distinction exhibition at Gallery 924 at Indy Arts Council in Indianapolis will feature the six visual artists, each based in Indiana. In 2022, the artists received an award of $10,000 from the Christel DeHaan Family Foundation to spend a year testing new mediums and technologies and taking creative risks. 
In a press release issued by the Indy Arts Council, Melynne Klaus, director for the Christel DeHaan Family Foundation, stated "The heart of the DeHaan Artist of Distinction Award is artistic excellence and the Christel DeHaan Family Foundation is honored to partner with the Indy Arts Council to support these talented artists and their aspirational projects."
The other 2023 DeHaan Artists of Distinction are: Jennifer Scheuer, assistant printmaking professor at Purdue University; Jacinda Russell—a conceptual artist and associate professor of art at Ball State University; Shamira Wilson, an Indianapolis-based artist; and Ventiko, an Indianapolis-based conceptual artist working in photography.
September 29, 2023