Saint Mary's Hosts Second Annual Raise Your Voice Symposium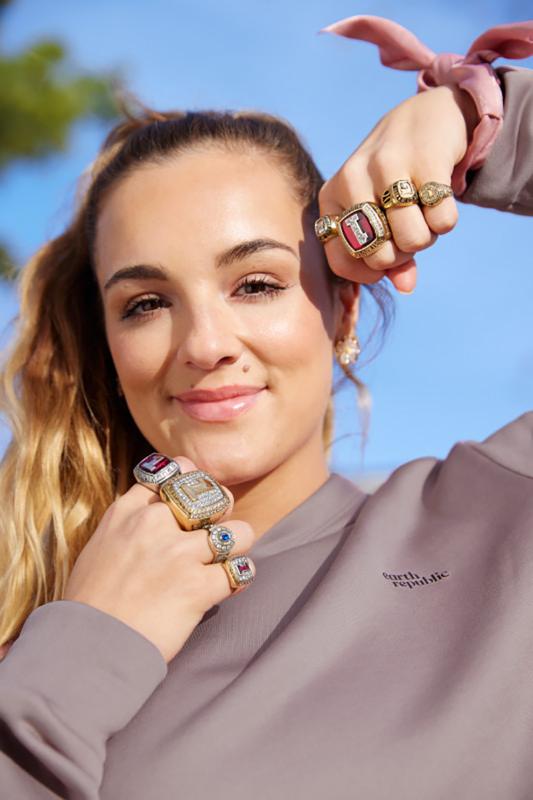 Three-day symposium featured elite athlete and survivor Maggie Nichols
By Brianna Willison '23
Saint Mary's College is hosting the second annual Raise Your Voice: A Sexual Violence Prevention Symposium from April 17-19, 2023 in honor of Sexual Assault Awareness Month. With events scheduled throughout the three days, the tri-campus community will have opportunities to listen, learn, and lead.
"It is important for our community to show that we stand with survivors, that we do not wish to silence them, and that we want to listen to their experiences, learn from them, and then help to lead the action of preventing future violence from happening," said Liz Baumann, director of the office of student involvement and advocacy and coordinator of the Raise Your Voice symposium. Baumann recognizes the discussions may be uncomfortable but says they are necessary to move forward in preventing sexual violence on college campuses. 
Unfortunately, this is an issue that hits close to home for many students here on campus. Raise Your Voice allows students, faculty, and staff to unite in order to raise awareness, acquire tools to prevent the incidence of sexual violence, and give survivors a safe space to tell their story if they feel so inclined. Because the topic is important to discuss, measures have been put in place to ensure students' mental health is prioritized. Counselors are available and trigger warnings are provided for talks, panels, and displayed materials throughout these three days and beyond.
The symposium kicks off with keynote speaker, Maggie Nichols, elite gymnast, former  member of Team USA, activist, and survivor. Known as "Athlete A," Nichols was the first gymnast to officially report Larry Nasser for sexual abuse. Her story, while difficult, is one students, faculty, and staff are looking forward to hearing as it is one of resilience, perseverance, and empowerment. "I'm excited for our students to hear from someone so close to their age about her resilience in her journey and her future, said Baumann.Nichols' presentation will be followed on the second day by panels and workshops on topics from  Title IX, current initiatives to address sexual assault in St. Joseph County, spiritual healing, and more. Additionally, the College will host the national "What Were You Wearing" exhibit. This touring event displays outfits individuals wore at the time they were attacked in efforts to give the community a space to share their experiences if they desire on campus.
To end the symposium, the tri-campus will participate in the annual Take Back the Night. Baumann explained that this event starts with a survivor speak out where students can share their experiences in a confidential safe space, march around Notre Dame's campus, and join a prayer vigil at the Grotto. The evening ends  with Saint Mary's students coming back to campus to light lanterns that will float on Lake Marian, a symbolic act to offer closure for survivors. 
April 17, 2023