Saint Mary's Receives Its 1st Patent for Device, Invented with Notre Dame, That Detects Fake Drugs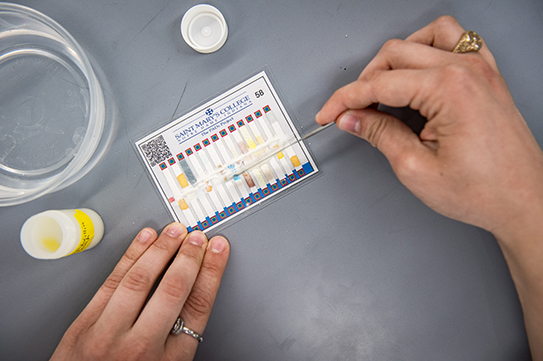 July 26, 2016 (Notre Dame, Ind.) — The U.S. Patent and Trademark Office has issued US Patent No. 9,354,181 to researchers at Saint Mary's College and the University of Notre Dame who together developed user-friendly devices that detect low-quality pharmaceuticals. It is Saint Mary's first patent and the first for two of the three professors. These unique Paper Analytical Devices (PADs) can detect multiple chemical components in a pill or capsule, including substitute drugs or "fillers" that may be added in place of an active ingredient.
Fake drugs with authentic-looking packaging are a significant global problem, as noted earlier this year by the World Health Organization. PADs are an inexpensive technology that can be easily implemented in low-resource settings, like developing countries. By spotlighting drug quality, PADs quickly determine whether a drug tablet or capsule contains the correct medicines, which could be especially beneficial in countries that lack technological and regulatory infrastructure.
This newly issued patent is the first issued to Toni Barstis, professor of chemistry at Saint Mary's and program director for the Dual Degree in Engineering Program with Notre Dame, and Marya Lieberman, a professor of chemistry and biochemistry at Notre Dame. The patent was also issued to Patrick Flynn, the Duda Family Professor of Engineering and professor of computer science and engineering at Notre Dame. Flynn also holds US Patent No. 8,760,510 for "three-dimensional imaging using a static light screen" and has two more patents pending.
The Saint Mary's research team, led by Barstis, worked with researchers at Notre Dame to develop a PAD that screens for substandard tablets of Panadol, an internationally known brand of acetaminophen. The PAD is the size of a business card and offers results in less than five minutes.
"Panadol has long been among the most common pain-relieving drug counterfeited around the world," Barstis said. "The package design is so good, it's hard to determine whether it's the genuine medicine or a fake that could contain harmful ingredients."
Other fake pharmaceuticals are marketed as cures for infections, malaria, and the flu. Some contain acetaminophen, which reduces pain and fever, but do not contain the active ingredient to combat these diseases. Because the Panadol PAD checks for the presence of acetaminophen, it can be modified to screen the other drugs.
Research at this level takes significant dollars and years of commitment, Barstis said.
"The Jen and Pat Prikkel Fund at the Mathile Family Foundation infused the PADs project with resources that ensured research would continue," Barstis said. "Thanks to this investment, we now have a patent and are much closer to getting this technology to market where it can be used by pharmacists and others to expose low-quality drugs."
Jen Mathile Prikkel '95 invites others to consider investing in Saint Mary's in this unique way.
"Just imagine if more donors invested their dollars to attract and support the best and the brightest Saint Mary's professors and students who are dedicated to improving and saving lives," Prikkel said. "We are extremely happy and humbled by our association with all those involved in this latest advancement in scientific research. What an amazing tribute to Saint Mary's — a small school offering big opportunities for contributors to invest in academic excellence." 
The Mathile and Prikkel families also invested $10 million to renovate Saint Mary's Science Hall. The renovation, which will be complete by the end of the summer, expanded the southern half of the building to create larger, up-to-date laboratories and classrooms, and group study spaces.
Currently there are six PAD research projects underway at Saint Mary's funded by the Jen and Pat Prikkel Fund at the Mathile Family Foundation and the Marjorie A. Neuhoff '61 Summer Science Research Communities grants. The projects are:
"Sampling and Analysis by Liquid Chromatography/Mass Spectrometry of Potentially Counterfeit Medicines and Validation of PAD Analyses", Taylor Lashbrook '17, Gina Pernesky '17, and Chris Dunlap, professor and chair, chemistry and physics
"The Collection and Analysis of Antibiotic and Anti-worming Medicines from Nepal Using Chemical PADs and Instrumental Analysis", Natalie Hartman '16 and Toni Barstis, professor, chemistry and physics
"Chemical PAD Prototype Development", Eli Barstis (Hamilton College) and Toni Barstis, professor, chemistry and physics
"Computer-Assisted Image Analysis for PADs", Catalina Vajiac '18, and Ian Bentley, assistant professor, chemistry and physics
"The Development of a Prednisone Sensing Bio-PAD", Kaitlyn Morris '17, Megan Eggebrecht '17, and Don Paetkau, associate professor, biology
"The Development of Micro Bio PADs for the Summer 2018 Assessment of Water Quality in Nepal", Alyssa Wyatt '18 and Reena Lamichhane-Khadka, assistant professor, biology
"Key ideas behind this project have come from students, who take real ownership of their work," said Dean of Faculty Vickie Hess. "Our faculty are not just serious scholars in their own right, but heavily invested mentors who take pride in the accomplishments of their undergraduate colleagues."
Provost and Senior Vice President for Academic Affairs Patricia Fleming noted, "The PADs research is reflective of the mission of the College's foundresses, the Sisters of the Holy Cross, to reflect on the signs of the times, discern needs, and respond. Lives can be saved because of this technology, the outcome of extraordinary and holy work."
About Saint Mary's College: Celebrating over 175 years of empowering women to make a difference in the world, Saint Mary's College is recognized as a pioneer and continued force in the education of women. A Catholic, liberal arts institution in Notre Dame, Indiana, the College offers more than 50 undergraduate academic programs and also offers co-educational master's degrees.
Contact for News Media: Haleigh Ehmsen, Media Relations Associate, Saint Mary's College, hehmsen@saintmarys.edu (574) 284-5343