Student-Created Coffee Shop Opens on Campus
Marketing Students Officially Open Off the Avenue
A medium cold brew with a splash of oat milk was the first order placed at Off the Avenue (O.T.A.) on Monday, February 20. Wrapping around the second floor of Spes Unica Hall, queuing to place their orders at the cafe overlooking the atrium, students, faculty, and staff had more enthusiasm than a typical Monday morning.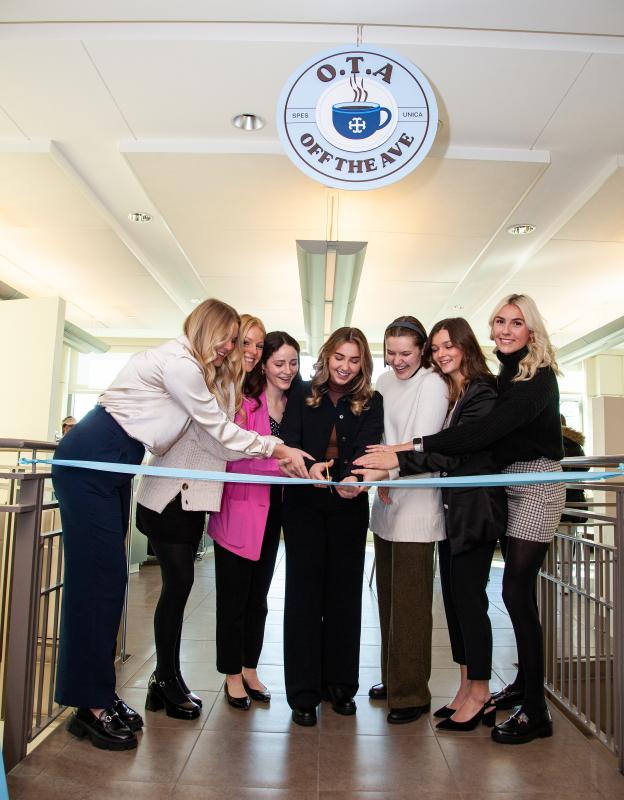 "We have overcome so many obstacles throughout the year to make this business come to fruition and I couldn't be more proud of this team," O.T.A. co-founder Hannah Shoemake '23 said before officially welcoming patrons.
Shoemake, along with six other marketing majors, serve as co-founders and board members of the O.T.A. cafe. Elizabeth Andersen '23, Erin Bennett '23, Annie Doyle '23, Erin Harrington '23, Grace Marcheselli '23, and Jennifer Utterback '24 have been dreaming of this day since last spring. As the seven members cut through the red ribbon at the entrance of the cafe, the smell of coffee grounds and fresh pastries could be smelled as soon as you entered the building.
The idea to open an on-campus coffee shop came from a lunch conversation with Shoemake and business professor Jim Rogers. Rogers took their concept to his marketing classes to see if other students felt it could work. They did, and shortly after, O.T.A. was born. "I had no idea what I was getting into when I signed up last year, but we couldn't have asked for a better team. We work so well together and all have different skill sets," said Harrington. 
All of the founders are marketing majors, so each member can hone in on different skills to make the business run smoothly and efficiently. Bennett manages the hiring and application process, Harrington oversees the operations planning and merchandise, Andersen and Utterback manage the social media and on-campus promotion, Marcheselli oversees the operations planning and financials, and Doyle tackles operations planning and signage. 
Every member credits their success to the education they've received at Saint Mary's. "Being able to open a business while still in school just proves we are always gaining knowledge from our classes," Shoemake said. Harrington used her marketing research assignments to benefit the business by creating a survey tailored to her classmates. From the data, she gathered what syrup flavors and pastries her fellow Saint Mary's students wanted at the cafe. Bennett also attributes part of her success to her business classes, specifically her strategic management course, by helping her learn how to interact as a board member with the employees. "I think it's important though that everyone learns how to manage or lead employees," said Bennett. She has also been able to gain advice from business professor Samuel Rohr on management skills. 
Every element of O.T.A. was strategized with current and future Belles in mind. As if creating a business from the ground up wasn't enough for these students, they are in the process of organizing a business club for the College to sustain O.T.A.  long after their graduation. Bennett says the business club is open to all business majors here on campus: finance, management, accounting, and marketing, with the hope of recruiting upperclassmen as board members and underclassmen as employees This arrangement will ensure there is a continuous cycle of O.T.A. board members represented by each business major.
In choosing the location for their venture, O.T.A. took over the vacant coffee bar that closed during COVID. When Shoemake was a first year at Saint Mary's, she and many other students would frequent the venue for a bagel and coffee in between classes. But by the time the 2020 spring semester rolled around, the cafe had closed and was empty—until Off the Ave. In a busy location with lots of foot traffic, Shoemake and her team have revamped the space into a trendy and aesthetic one-stop shop for busy students and faculty.
Their menu consists of a wide variety of coffees, teas, and pastries. Serving both hot and cold beverages, seven syrup choices, as well as O.T.A. signature lattes, no customer will leave without finding their perfect pick-me-up, says Shoemake. Considering herself a "coffee snob," she was disappointed in the lack of coffee choices on campus after the previous cafe closed. "I've always been a coffee fanatic," says Shoemake. "One of my favorite things to do is to try local coffee shops. I realized there were more students on campus like me that would enjoy a nicely crafted espresso drink."
In the fall of 2022, the members took a roadtrip to Saugatuck, Michigan to tour Uncommon Coffee Roasters' facility and taste test their coffees and teas, hoping they could turn the experience into a partnership. After reaching an agreement, Shoemake said Uncommon Coffee Roasters will not only be their supplier for coffee and teas but everything in between: syrups, cold brew kegerator, installation and maintenance of the espresso machine, and even training the 10 baristas and two co-managers.
As Shoemake noted in her opening remarks on Monday morning, opening a coffee shop was just one of many responsibilities the founders have this semester. The seniors are in the midst of completing their senior comprehensives, many, if not all, of the members have part-time jobs or are involved in athletics or clubs. Shoemake is vice president of the equestrian club at Notre Dame, Harrington is captain on the Notre Dame pom squad, and Bennett is also a captain of the Saint Mary's golf team.
Rogers serves as the faculty sponsor but gives full credit to each student. "They have been the driving force throughout. They have taken full ownership of the idea and overcome a substantial number of obstacles, and maintained their energy and enthusiasm over eight months to bring it to fruition," he said.
According to Shoemake, the process of getting O.T.A. approved was lengthy, starting in mid-August with an initial presentation in front of administration. To their surprise, a second opportunity to present their idea arose, this time in front of President Katie Conboy in October. "It was a great opportunity for her to listen to our ideas on how to improve our campus, as well as demonstrating the skills we have acquired as Marketing majors here at Saint Mary's," said Shoemake. 
The budget—created by Professor Rogers and Marcheselli—was based on customer projections, as well as all of the costs associated with servicing the customers, fixed costs, variable costs, wholesale orders, employee wages, brand collateral, etc. Currently, the business is funded through a loan from the College, which they project to pay back in the first year. By the next school year, the co-founders have decided to donate a portion of their profits to local women-focused organizations.
"These business students have embraced their own empowerment. The strength and perseverance of these women is inspiring. I hope many Belles take their example and pursue opportunities here and beyond the Saint Mary's campus," said Rogers.
February 27, 2023