College Announces New VP for Strategy and Finance
February 12, 2019 (Notre Dame, Ind.) — Saint Mary's College has named a new vice president for strategy and finance. Interim President Nancy Nekvasil announced Dana Strait, current Principal of Corporate Strategy and New Product Development at Education Advisory Board (EAB). She will begin her role on March 4, 2019.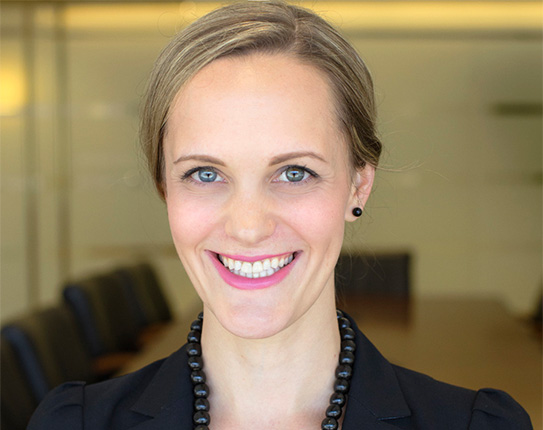 Strait comes to Saint Mary's with a diverse background in higher education strategy and management —both academic and administrative. She holds a Bachelor of Arts in Music from Whitworth University and a PhD in Neuroscience from Northwestern University. At EAB, Strait's research focused on affordability and enrollment trends at U.S. colleges and universities, including sustainable strategies for revenue growth. Strait has worked with hundreds of college campuses across the country, providing guidance and recommendations for advancing college access, financial sustainability, and student success.
A national expert on higher education trends and management, an accomplished neuroscientist, and an experienced corporate strategist, Strait will bring rich experience and knowledge to the College.
"Strait is dedicated to our mission of empowering women through an education of the mind and the heart," Interim President Nancy Nekvasil said. "I am excited to have her join Saint Mary's and know that her expertise will help us bolster and broaden our investments in our students and campus with compassion, strength, and purpose."
Strait looks forward to beginning her role this spring.
"I could not be more grateful to be welcomed into the Saint Mary's College community, to work together with President Nekvasil and her cabinet to meet and exceed the many goals before us," Strait said. "It only took a few minutes on campus to discover that this is a very special place, with an outstanding faculty, a robust history, and deeply invested students and graduates. Together, I have no doubt that we will see increased growth and opportunity for both the college and for the mission it serves."
About Saint Mary's College: Celebrating over 175 years of empowering women to make a difference in the world, Saint Mary's College is recognized as a pioneer and continued force in the education of women. A Catholic, liberal arts institution in Notre Dame, Indiana, the College offers more than 50 undergraduate academic programs and also offers co-educational master's degrees.
Contact for News Media: Haleigh Ehmsen, Assistant Director of Integrated Communications, Saint Mary's College, hehmsen@saintmarys.edu (574) 284-5343