WEI to host annual THRIVE Conference for Women
March 22, 2018 (Notre Dame, IN) — The Women's Entrepreneurship Initiative (WEI) at Saint Mary's College, in partnership with 1st Source Bank, is proud to present the 4th annual THRIVE Engaging Women Conference. This year's conference, "Engaging Women 2018: United by Strength" will take place on Wednesday, May 23, from 8 a.m.-5 p.m. at Saint Mary's College. The conference is focused on how women can become successful leaders in their workplace and communities. Registration is now open which is $70 includes a continental breakfast and lunch. The conference has sold out the past three years.
"Engaging Women 2018: United by Strength" is designed to give women a chance to encourage, influence, support, and engage with each other according to WEI Project Director Joan McClendon.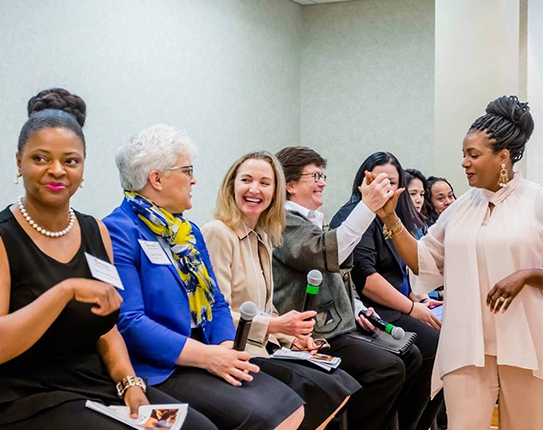 "Women who have attended the conference in years past have said this is an event they look forward to because of the diverse opportunities and experiences it provides personally and professionally," McClendon said. "The conference gives women new ideas, concepts, and connections they may not have had otherwise. This is a bright spot for women in the community and we are thrilled to unite more women by opening more spaces for the 2018 conference."
Keynote sessions include Hayley Boling, CEO of Boling Vision Center, and a main session panel filled with incredible women discussing unique stories of strength, perseverance, and equality. Additionally, there will be over 20 breakout sessions focusing on business essentials, creating connections and networking, and healing yourself, among others.
"1st Source Bank is excited to again be the Premier sponsor for the Engaging Women 2018 conference. There is no other event like this in Michiana and we could not be more pleased to support the women in our community," said Vice President of Business Banking at 1st Bank Julianna Herring. "I have attended this event for the past three years and have been thrilled with the caliber of speakers and the opportunities for women to engage and connect with one another. This is a day of inspiration and I look forward to attending each year."
For more information, contact Joan McClendon at jmcclendon@saintmarys.edu or (574)284-5275
About Saint Mary's College: Celebrating over 175 years of empowering women to make a difference in the world, Saint Mary's College is recognized as a pioneer and continued force in the education of women. A Catholic, liberal arts institution in Notre Dame, Indiana, the College offers more than 50 undergraduate academic programs and also offers co-educational master's degrees.
Contact for News Media: Haleigh Ehmsen, Assistant Director of Integrated Communications, Saint Mary's College, hehmsen@saintmarys.edu (574) 284-5343
Written by Emily Doyle '18, WEI public relations intern and business administration major concentrating in marketing and management.