Belles Struck by Hail and Thunder on Senior Day
Box Score

NOTRE DAME, Ind. - In a freak pop-up storm for late October, hail showered down from the sky on Saturday at the Saint Mary's soccer game less than ten minutes into the second half. An hour later, visiting Trine would leave with a 1-0 decision over the Belles on Senior Day.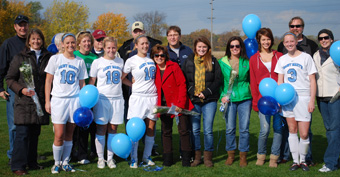 The senior soccer players and their parents were recognized
at halftime of the Belles' game on Saturday.In a physical match up between the in-state conference rivals, both teams pressed as the possession of the ball traded hands throughout the first half. The Belles had the better chances of getting on the scoreboard in the first 45 minutes of play. Ashley Morfin saw an initial shot and the resulting rebound shot both turned away with just under ten minutes before the half. Kaitlin Teichman also had a pair of shots in the first period, but her first header was stopped at the goal line while the second was off the mark as the game was tied 0-0 at the break.

The Thunder capitalized on their first push forward in the second half. Just over a minute into the second half, Trine's Kristin Elliot dribbled the ball deep along the right side of the field, sent the ball across the mouth of the goal from the baseline, and saw her shot bounce off the far post and into the goal for the score.

The Belles immediately put the pressure back on Trine as they earned a pair of corner kicks in the next few minutes. The Thunder responded with a quick flurry of shots, but the Belles regained possession and earned yet another corner kick. After Teichman's service from the corner was played out of bounds for a goal kick, the game was suspended due to lightning in the area which was quickly followed by a hail storm.

After an approximate 45 minute delay, the Belles came back out onto the field looking to equalize. Again, Saint Mary's earned back-to-back corner kicks, but like the first half, they were unable to capitalize. Eventually, the Belles comeback bid ran out of time as Trine took the 1-0 decision.

Kaitlin Teichman tallied five shots on the afternoon with two of those going on-frame. Classmate Mollie Valencia added three shots while Kelly Wilson and Ashley Morfin were both credited with two shots apiece.

Natalie Warner shouldered the loss in goal for Saint Mary's after making three saves in 90 minutes of play.

The Belles (9-10, 5-10 MIAA) conclude the 2011 season on Tuesday, November 1 when they host Hope at the Saint Mary's soccer field beginning at 4:00 p.m.