Belles Downed by Bulldogs
Box Score

ADRIAN, Mich. - The Saint Mary's soccer team fell by a 1-0 final to regionally-ranked Adrian on Thursday evening.

The Belles had a pair of strong scoring opportunities turned away on the goal line in the opening half of play. Jordan Diffenderfer and Maggie McLaughlin each had header shots saved off the line in the opening six-and-a-half minutes of action. Saint Mary's continued to pressure the Adrian defense as the Belles out-shot the Bulldogs 8-7 with a 6-2 advantage on shots on goal in the opening 45 minutes of play.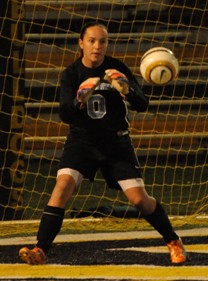 Chanler Rosenbaum makes one of
her eight saves against Adrian on
Thursday night.The second half saw the teams continue their battle for possession. Again, it looked as though the Belles would break through for the first goal of the game. In the 53rd minute of play, Maddie Meckes sent a high-arcing cross through the box to the far post, where Ashley Morfin saw her shot sail just above the cross bar. It was not until the 68th minute when the Bulldogs took a long-range shot from well outside the 18-yard box that was unplayable by any defender into the far left side of the net to break the deadlock.

Saint Mary's pushed forward, looking to net the equalizer only to see their efforts come up empty-handed. Adrian added a handful of shots on goal that were turned away by Chanler Rosenbaum.

Maggie McLaughlin led the Belles with five shots, three of which were on goal. Mary Kate Hussey and Mollie Valencia each added a pair of shots for Saint Mary's.

Chanler Rosenbaum made eight saves in goal for the Belles.

Saint Mary's (10-3-1, 7-3 MIAA) will be away from competition this weekend and will return to the pitch on Wednesday, October 17 when they travel to Albion for an MIAA tilt against the Brits.