Belles Surge Past Brits
Box Score

ALBION, Mich. - The Saint Mary's soccer team used three unanswered goals to take a 4-1 win on the road at Albion on Wednesday night.

Maggie Wenzel got the Belles on the scoreboard first. After spending much of the first half applying the pressure to the Albion defense, Kerry Green sent a pass over the defense for Wenzel. The freshman had a step on the defense and pushed her shot past the goalkeeper in the 31st minute. Albion squared the contest at 1-1 just a few minutes later. A foul call inside the 18-yard box led to a penalty kick, which the Brits' Rachel Reem converted in the 34th minute of action. In the final five minutes of the opening half, Jordan Diffenderfer was on the receiving end of a cross by Lindsay Rzepecki that found its way past the Brits' goalkeeper as Diffenderfer put away the eventual game-winner three-and-a-half minutes before halftime.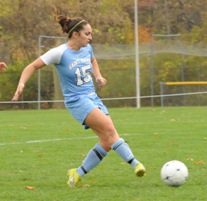 Erin Mishu scored her first goal of
the 2012 season.In the second half of action, Erin Mishu cushioned the Belles' lead to 3-1 after taking possession of the ball from a defender for a breakaway goal just five-and-a-half minutes after the break. Ashley Morfin added a breakaway goal of her own in the 65th minute of play on connecting passes from Kerry Green and Maggie McLaughlin.

The Belles out-shot the Brits 29-5 in the contest while holding a 15-4 advantage in on-goal shots.

Nicole Papiernik earned the win in goal, allowing the penalty kick while making a save in 45 minutes of play. Chanler Rosenbaum picked up a pair of saves in just over 22 minutes of play, and Hannah Bruggeman was not tested by the Albion offense in just under 23 minutes in goal.

The Belles (11-3-1, 8-3 MIAA) will travel to Calvin for a 2:30 p.m. contest against the Knights on Saturday, October 20.