Offensive Outburst Propels Belles Past Brits
Box Score

NOTRE DAME, Ind. - The Saint Mary's soccer team had their most productive offensive day since the 2007 season as the Belles defeated visiting Albion 7-0 on Tuesday.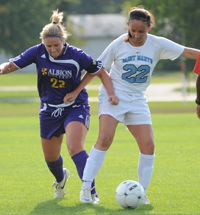 Mollie Valencia battles with Albion's
Lindsey Lubanski in the midfield.The Belles got on the scoreboard just five minutes into the contest when Maggie McLaughlin slotted a pass through the defense to Mollie Valencia, who sent a low shot past the Albion goalkeeper for the first goal of the season for the junior midfielder.

Saint Mary's continued to control the ball and the flow of the game but were kept off the scoreboard by a handful of saves by the Brits' goalkeeper. The offense was only temporarily kept at bay, however, as Ashley Morfin notched back-to-back goals in the 30th and 39th minutes with assists going to Kaitlin Teichman and Meaghan Daly.

After the halftime break, the Belles took less than three minutes to push the lead to four goals. Morgan Gagnon played a ball into open space for Hillary Burton, who only had the goalkeeper to beat on the play and did just that for her first goal of the season. Kerry Green then sent a ball over the defense to Maggie Wenzel, who likewise had only the goalkeeper to beat as the freshman notched her first collegiate goal at the 53:00 minute mark.

Wenzel and Burton both added their second goals of the season in the 68th and 72nd minutes, respectively, as the Belles posted the most goals in a game since scoring eight in a 2007 victory.

The Saint Mary's defense limited Albion to just four shots on the day with none of those attempts being on goal.

Chanler Rosenbaum picked up the win in goal as she teamed up with fellow sophomores Nicole Papiernik and Hannah Bruggeman for the combined shutout in goal. The 7-0 win is the fourth shutout of the 2012 season for the Belles.

Saint Mary's (5-1-1, 3-1 MIAA) will host Calvin for an MIAA contest beginning at 4:00 p.m. on Thursday, September 27.