Four Belles Earn All-MIAA Accolades
ROYAL OAK, Mich. - Four members of the 2012 Saint Mary's soccer team earned All-Michigan Intercollegiate Athletic Association honors as voted upon by league coaches for their efforts during the season.

Sophomore defender Kerry Green was a selection on the All-MIAA First Team while sophomore goalkeeper Chanler Rosenbaum, junior midfielder Mollie Valencia, and sophomore defender Mary Kate Hussey were all on the All-MIAA Second Team. All four members of the team earned MIAA Player of the Week honors throughout the 2012 season as the Belles won a school record 13 games and tied the school record for the most MIAA wins in a season with 10.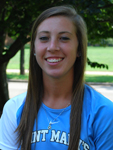 Green started in each of the Belles' 16 conference contests on the season in the backfield. She scored the game-winning goal in a 4-0 victory over Trine and added three assists on the season. She was also played a key part in a defense that allowed only 12 goals in league play while shutting out the opposition seven times. The All-MIAA First Team honor is the first of her career. She becomes the third defender to earn All-MIAA First Team status in program history.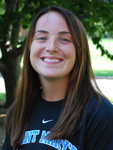 Rosenbaum started 15 of the 16 conference contests in goal while making an appearance in all of the team's MIAA competitions during the 2012 season. She posted a 9-5-1 record in goal with 74 saves and six shutouts. In over 1300 minutes of play, Rosenbaum allowed only 10 goals for a 0.68 goals against average, which was second among MIAA goalkeepers in conference-only statistics. Her .881 save percentage was the best among conference netminders during the season. She becomes the first goalkeeper in program history to earn All-MIAA Second Team honors.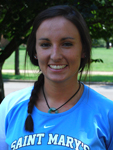 Valencia started 15 of the team's 16 conference games this past fall. The junior midfielder scored three game-winning goals on the season including the lone goal in each of the team's 1-0 wins over Kalamazoo. Her three game-winners tied her for fourth-most among league players in conference-only statistics. She also added three assists, which included the helper on the game-winning goal in a 1-0 win at home against Hope. It is the third time in her career that she has been named to the All-MIAA Second Team. Moreover, she becomes the fourth player in program history to be named to an All-MIAA postseason team on three occasions.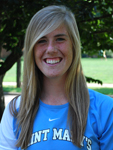 Hussey started in each of the team's 16 conference competitions this season. She placed seven of her 11 shots on goal for the year from the backfield. Playing in the center defensive backfield alongside Green, she was also a key part of a defensive effort that surrendered only 12 goals in MIAA games while holding the opposition scoreless on seven instances. The All-MIAA Second Team accolade is the first of her career as she becomes the third defender to earn a spot on the conference's second team list.

The four All-MIAA honorees this season ties a program record for most all-conference selections as the 2003 team also had four of its members recognized with postseason honors. It is also the 12th consecutive season that the Saint Mary's soccer team has had at least one All-MIAA selection.

2012 All-MIAA Women's Soccer
Most Valuable Player
Erin Weide, Adrian (sophomore from Madison Heights/Bishop Foley HS)

All-MIAA First Team
GK – Chayna Wallace, Adrian* (senior from Bedford/Bedford HS)
F – Jackie Short, Kalamazoo*** (senior from Troy/Athens HS)
F – Erin Weide, Adrian** (sophomore from Madison Heights/Bishop Foley HS)
F – Lindsey Bieri, Hope* (sophomore from Holland/Holland Christian HS)
F – Taylor TenHarmsel, Calvin* (freshman from Holland/Holland Christian HS)
F – Mackenzie Smith, Alma* (sophomore from Saginaw/Nouvel Catholic Central HS)
MF – Francesca Smith, Calvin*** (senior from Bloomington, Ind./Bloomington South HS)
MF – Danielle Carter, Calvin* (junior from DeWitt/DeWitt HS)
D – Ann Kennedy, Alma* (junior from Grand Rapids/Forest Hills Eastern HS)
D – Kerry Green, Saint Mary's* (sophomore from Cincinnati, Ohio/Mount Notre Dame HS)
D – Courtney Schmidt, Hope* (sophomore from Lowell/Lowell HS)
D – Patti Vaassen, Adrian** (senior from Ann Arbor/Saline HS)

All-MIAA Second Team
GK – Chanler Rosenbaum, Saint Mary's (sophomore from Hobart, Ind./Hobart HS)
F – C.J. McCarthy, Kalamazoo (senior from Ada/ Forest Hills Eastern HS)
F – Erin Jipping, Hope (sophomore  from Holland/West Ottawa HS)
MF – Lindsay Jipping, Hope (senior from Jenison/Hudsonville Unity Christian HS)
MF – Taryn Handyside, Alma (junior from Montrose/Hill-McCloy HS)
MF – Mollie Valencia, Saint Mary's (junior from West Melbourne, Fla./Melbourne Central Catholic HS)
MF – Courtney Pomeroy, Adrian (senior from St. Clair Shores/Lake Shore HS)
MF – Agatha Weddle, Alma (freshman from White Lake/Walled Lake Northern HS)
D – Sydney Kinney, Calvin (freshman from Ada/Grand Rapids Christian HS)
D – Jordan Meeth, Kalamazoo (junior from Three Rivers/Three Rivers HS)
D – Jenna Mayle, Olivet (junior from Ionia/Ionia HS)
D – Mary Kate Hussey, Saint Mary's (sophomore from Elmhurst, Ill./Fenwick HS)