Belles Defeated by Scots
Box Score

NOTRE DAME, Ind. - Regionally-ranked Alma scored a pair of goals in the opening three-and-a-half minutes as the Saint Mary's soccer team fell 2-0 to the Scots on Tuesday evening.

Maggie McLaughlin had a strong shot saved on the opening possession of the game for the Belles. Alma then won the ensuing punt from their own goalkeeper and a 50-50 ball in the Belles' defensive end to set up a mid-range shot by Mackenzie Smith from the top of the 18-yard box. The shot had just enough loft to carry above the defense but below the crossbar for a goal in the opening minute of play.

With their next offensive threat, the Scots struck again. This time, Smith was on the receiving end of a cross from the left into the box as Alma's scoring leader flicked a header inside the far post for the second goal in the opening 3:21 of play.

In the final 13 minutes of the first half, the Maggie Wenzel and the Scots' goalkeeper both went for a ball played forward at the same time. Wenzel's touch ricocheted off the goalkeeper well off the line, leaving the goal unmanned. The ball bounced back to Mollie Valencia, who played it to the middle of the box to Maddie Meckes. The senior's shot to halve the lead, however, rolled just wide of the left post.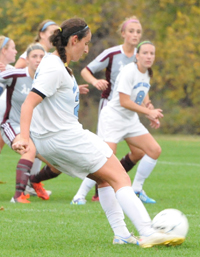 Mollie Valencia takes a free kick in
the final nine minutes of play.Wenzel then had a strong turnaround shot from in front of the goal narrowly turned away to open the second half of play. With just under nine minutes remaining, Valencia took a free kick from 20 yards out and saw her effort glance off the crossbar and away from goal. Shortly after, Maggie McLaughlin had a header attempt sail just over the crossbar.
From the start of the second half onward, the Belles controlled much of the possession and flow of the game as Saint Mary's out-shot Alma 8-3 over the final 45 minutes. The Belles also prevented the Scots from registering a shot on goal throughout the entire second half.

Maggie Wenzel had two shots on goal while Maddie Meckes, Maggie McLaughlin, and Mollie Valencia all registered multiple shots on the night for the Belles.

Chanler Rosenbaum made three saves in goal for Saint Mary's.

The Belles (11-4-2, 8-4-1 MIAA) will travel to Hope on Thursday night for a 7:00 p.m. contest against the Flying Dutch.