Belles Ground Pilots for Season Opening Win
Box Score

NOTRE DAME, Ind. - Kaitlin Teichman notched the lone goal of the game in the 55th minute as the Saint Mary's soccer team opened the 2012 campaign with a 1-0 win over cross-town rival Bethel on Friday evening.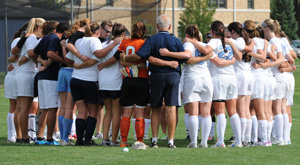 The team huddles up just before kickoff
against Bethel.In what was a battle in the midfield for most of the game, the Belles held a 15-9 advantage over the Pilots in total shots when the contest was said and done. At the half, both teams had tallied six shots while the visitors from Bethel had the two best scoring opportunities in the first half turned away. Midway through the first half, the Pilots quickly regained possession after a first shot was blocked only to see the second attempt at goal blocked away by the Belles' Chanler Rosenbaum.

On the other side of the field, Saint Mary's was able to get the ball well into the penalty area a handful of times, but the Belles came up empty-handed in the early going.

The second 45 minutes of play saw the Belles control the ball more consistently while shutting the Pilots down to just one shot on goal. As the Belles were pressing early in the second half, Courtney Wright played the ball to the middle of the penalty area where Kaitlin Teichman pushed it past the ensuing Pilots' goalkeeper to just inside the right post for the first and only goal of the contest. The goal was the second of her career and the first game winner for Teichman. The assist is the first of Wright's career.

The Pilots applied pressure late, but the Belles stayed organized in the backfield and were able to hold Bethel without a shot on goal over the final 25 minutes of play.

Rosenbaum picked up her first win and shutout of the season while making four saves for the Belles.

Saint Mary's (1-0) will travel to Chicago on Sunday to take on Illinois Institute of Technology for a noon (Central Standard Time) contest against the Scarlet Hawks.