Belles Fall in Overtime to Knights
Box Score

NOTRE DAME, Ind. - The Saint Mary's soccer team lost a tough 1-0 decision in overtime to visiting Calvin on Thursday evening.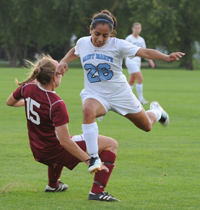 Abby Garcia is fouled during a
challenge in the second half.In a game that was battled in large part in the midfield, the Knights had the 21-5 overall advantage in shots. The difference in shots on goal, however, was just 6-2 in favor of Calvin as the Saint Mary's defense was stifling throughout the game.

Calvin ended the game two minutes into overtime after a ball was played into the box and shot three times from short range. The first two shots were blocked inside the six-yard box. The third, however, came after the Knights regained control after the second block, made a short pass back into the box, and took a shot from near point-blank range.

Beth Ruff had a pair of shots for the Belles, including one on goal in the opening half. Ashley Morfin, Kelly Wilson, and Jordan Diffenderfer each added a shot in the game.

Chanler Rosenbaum recorded five saves and intercepted several cross attempts while suffering the loss in goal.

The Belles (5-2-1, 3-2 MIAA) continue a busy week of conference play as they travel to Kalamazoo on Saturday, September 29 for a noon contest against the Hornets.